How to install and configure your Plytix Analytics extension for Magento 1.9
In order to install Plytix, you need:
Access to your Magento Admin Panel
A Plytix Account (make one free at Plytix.com)
The Plytix Analytics Extension
Your Plytix Analytics API Key from your Plytix Account
**Before uploading any new extensions to your Magento store, you should always ensure you create a backup on your store. This is simply a best practice. **
Downloading and Installing the Extension
Find Systems in the top menu and in the drop down locate MAGENTO CONNECT.
Then click on MAGENTO CONNECT MANAGER
Login where it prompts you to do so
Then find the INSTALL NEW EXTENSIONS section
Click MAGENTO CONNECT
Then once you are in the marketplace, search for Plytix
Click INSTALL NOW
Make sure to agree to the extension license and then click GET EXTENSION KEY
Copy and paste this key into the space provided in the MAGENTO CONNECT MANAGER
Click INSTALL.
Alternatively, you can download the Plytix Analytics Magento Extension from here: https://www.plytix.com/analytics/plugins and upload it manually into your Magento Connect Manager.
Configuring the Extension
After installing the extension, you will need to do some final configurations. This includes inputting your Analytics API Key. This can be found in your Plytix Admin Account at https://accounts.plytix.com/account
Now in Magento...
Click RETURN TO ADMIN

Click on SYSTEM in the top menu, and locate CONFIGURATION

In the left-hand menu, find the Plytix tab and click CONFIGURATION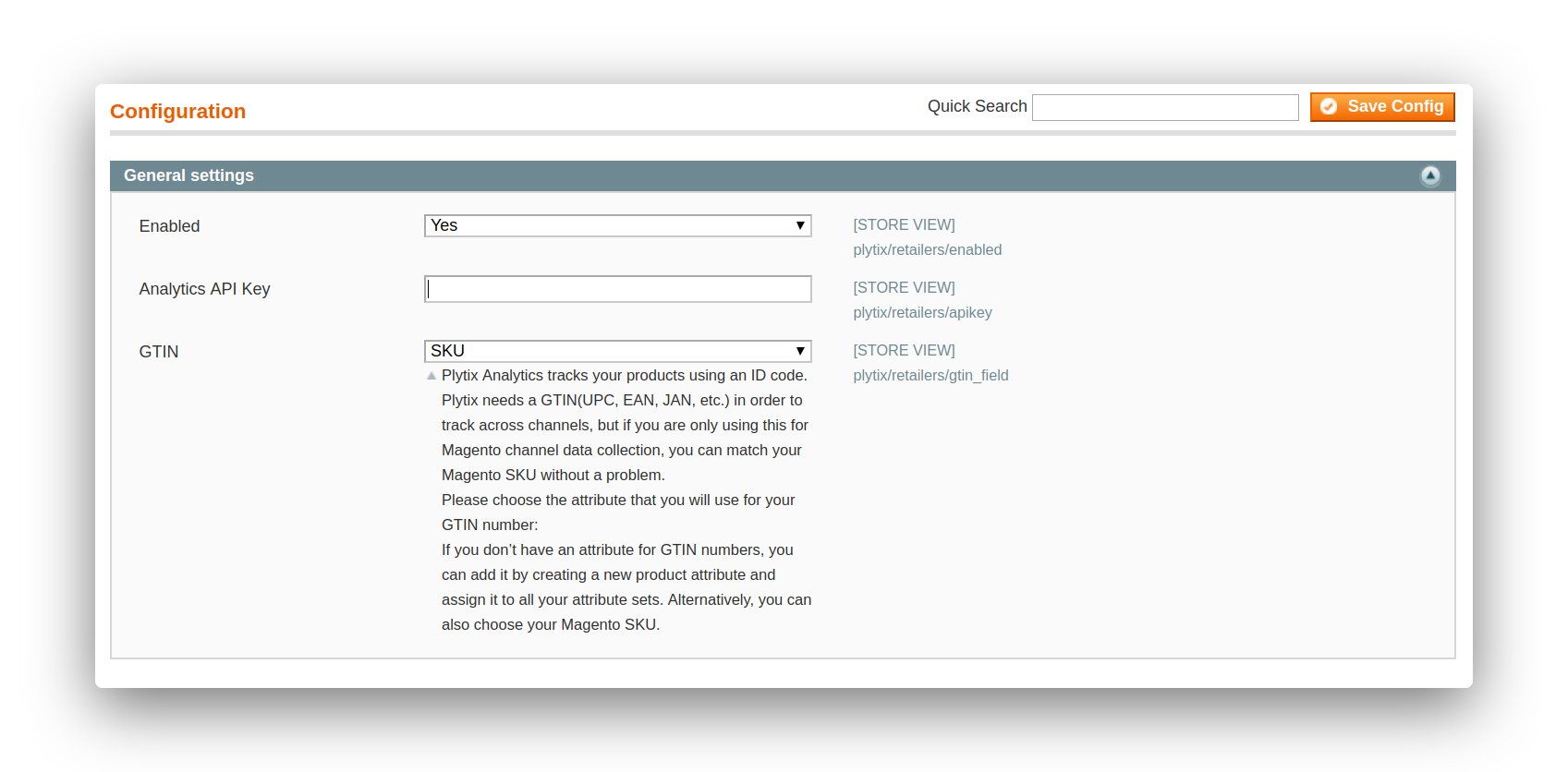 4. Switch ENABLED to YES in order to allow for data collection
5. Input your Analytics API Key from your Plytix Admin panel
6. Match your product ID so that we can track your products correctly. We recommend using a GTIN so that you can track products more accurately and on multiple channels. You can also use your Magento SKU
7. Click SAVE CONFIG
And that is it! You're all set up. Keep in mind that it could take up to 8 hours for you to start seeing data, so if you don't see anything immediately, don't panic.