How to use Plytix to send Google Analytics metrics directly to your brands
This feature is available in the Free and PRO versions of the tool. Therefore this entire process can be completed using our FREE account. If you have any questions about this, just let us know!
Steps to Share Data
There are three steps to getting set up to share data with your brands. The wonderful thing about this is that it is not complex or doesn't require any coding and you can set it and forget it.
Create a Plytix account
*Retailers can only share products with GTINs. This ensures that only the brand owning the GTINs will see those products and not those of competing products. Learn more about how data sharing works here.
How to create a Plytix account
The first thing you need is a Plytix account. This is a free platform where you will manage your product performance data and automatically share it with brands.
Click here to sign up for an account.
Then follow the steps to create a new account.
If you already have an account, just login!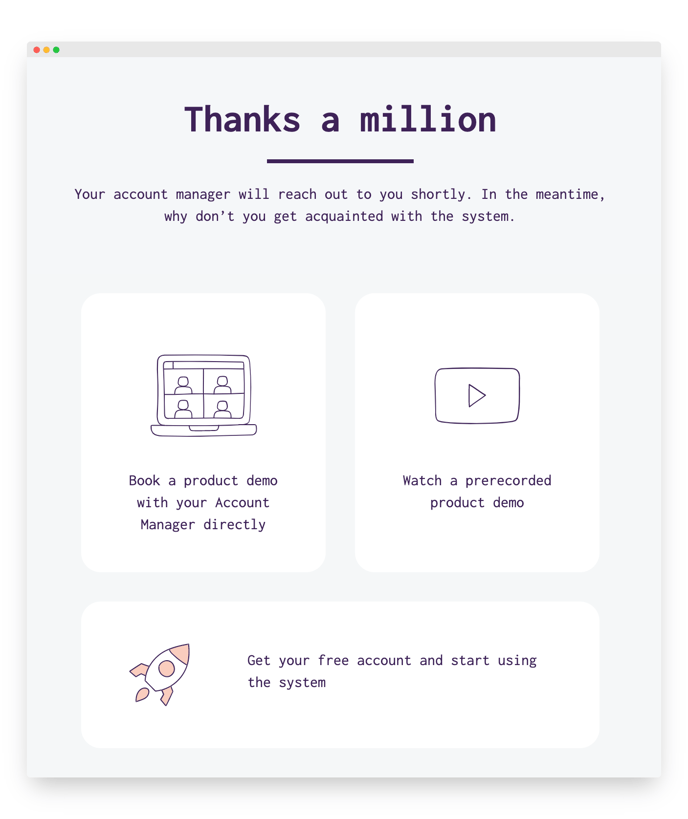 How to setup your Plytix account for data sharing
Once you have an account, you will need to do set up the account to start sending data. An account that is ready to share data, has SKUs that match their product IDs in Google Analytics and GTINs for those products they want to share the data for.
If you already have this set up, skip to connecting Google Analytics. Otherwise:
1. Export a csv file of SKUs and corresponding GTINs from your shop system, PIM, or even Google Analytics.
2. Make sure the file is formatted with at least these two required columns: SKU and GTIN. The SKU should correspond with your Product ID in Google Analytics. It is possible and acceptable that the GTIN and SKU are the same ID number. Click here to download a template csv.
3. Import this file into Plytix by going to PIM > Products > Import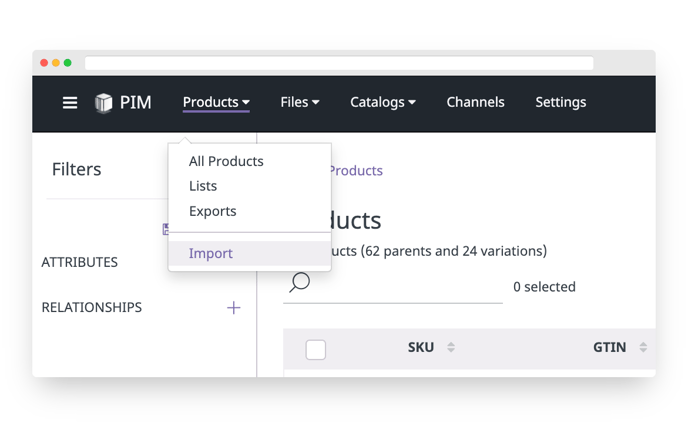 4. Drag and drop your CSV into the space provided
5. Your columns should automatically match with system attributes, and you should see a screen that looks like this 👇🏽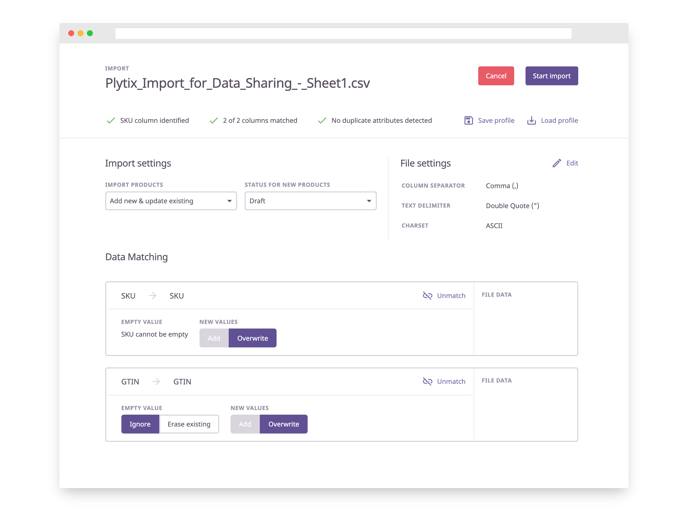 6. Click START IMPORT. From here your product information will be brought into the PIM. This will make it possible for us to match your brand's GTINs with the GTINs you sell.
How to connect your Google Analytics account with Plytix
The data we share with brands comes directly from your Google Analytics Enhanced Ecommerce reports. Setting this up with Plytix requires no coding, only that you have admin access to the Google Analytics account you want to link up.
This is an easy process that only requires a few buttons to click. Learn how to connect your account here.
After your account is connected, you will start to gather your own Google Analytics metrics into the dashboard. From here Plytix will cherry-pick the brand's data based on the GTINs that brand owns and send only that data to their dashboard.
If at any time you need assistance during this process, you can find us at help@plytix.com or in our live chat. 😃