How to install and configure your Plytix Analytics plugin in WooCommerce
You can download the Plytix Analytics module for WooCommerce from the WooCommerce Plugin Directory and then upload it to your store, for free.
Things you need to install and configure your plugin:
A Free Plytix Account, make one at Plytix.com
The Plytix Analytics plugin (see below)
Your Analytics API Key from your Plytix account (see below)
Download
Click DOWNLOAD
Manual Upload
Open your WooCommerce store and go to Plugins > Add New
From this screen you can click "Upload Plugin" in the top left corner
Upload the plugin
Click ACTIVATE

On the next page, click CONFIGURE
Here you will need to insert your Analytics API Key
Inserting the Analytics API Key
In order for the plugin to work correctly, you need to configure your Analytics API key. To complete this configuration you will first need to retrieve your Analytics key credentials from the admin section of your Plytix account: https://accounts.plytix.com/account.
Once you have your API key and password:
Insert the key into the space provided
Click NEXT STEP.

Configuring Product Identifier for Cross Channel Tracking
Next you need to choose to enable GTIN for cross-channel tracking.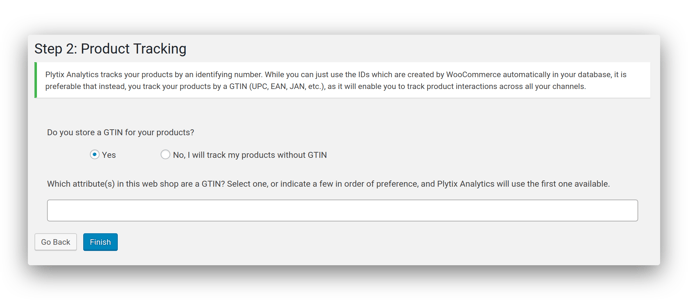 Click YES to match your GTIN attribute or click NO to track without a GTIN
Click FINISH
Plytix Analytics tracks your products by an identifying number. We recommend using a GTIN (UPC, EAN, JAN, etc.), though you can use the IDs which are created by WooCommerce automatically in your database.
Using a GTIN offers the added benefit of enabling you to track product interactions across all other channels, not just WooCommerce.
Now you are all set up! It could take up to a 8 hours to start seeing data, so if you don't see anything immediately, don't panic.