How to connect your Google Analytics account with Plytix
This feature is in open beta which means we are still working on improving and perfecting this while it is available for use. Please don't hesitate to provide us feedback at any stage.
In the Analytics section of Plytix, you can connect your Google Analytics Enhanced Ecommerce data in order to:
Aggregate data from different properties into one dashboard
Easily segment data into groups (think pivot tables, but better)
Share data with brands
Track data from retailers selling your products
What you need
To get started you will need:
How to Connect Google Analytics with Plytix
When you first enter the Analytics area of the PIM, you will see a message that prompts you to connect your account.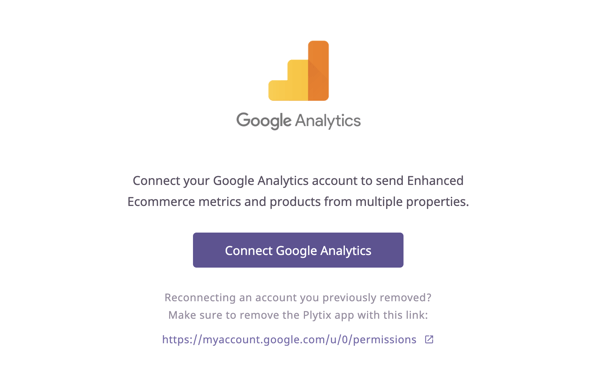 Click CONNECT GOOGLE ANALYTICS
Sign in to the Google account that has access to the Google Analytics account you want to connect
Allow Plytix to view your Google Analytics data via the prompt from Google
Then choose the account you want to connect. You can only connect one account at a time. Click NEXT.
Select the property or properties you want to connect with Plytix. You can select as many properties as you want.
Then select the view you want to send for each property. You can only send one view per property. This ensures you do not have any duplicate or conflicting data sent.


Confirm you want to connect your account.


Then you will see a screen that lets you know your account is syncing. Plytix will automatically pull in the last 13 months of data from your Google Analytics account.


When does data appear?
Data should begin to appear within the first 1 to 2 minutes. It may take up to 8 hours to see all 13 months of data for all products.
Once data appears, you will see the Dashboard area where you can start to compare and manage your metrics!
If you have any questions just click on the chat box in the bottom-right corner and we'll be happy to answer them...
and please let us know 👇