Learn about the types of attributes you can use to filter products in a brand portal.
When creating a brand portal you can enable filters and choose which attributes to filter by. This allows visitors to filter through the products in the portal using the criteria you set. This article lists the different attribute types you can filter by and explains the settings of each.
---
Accessing The Filters Settings of a Brand Portal
Enter the Designer of the brand portal you want to modify.
1. Click on "Product overview" in the left side menu
2. Click on the icon to the right of "Filters"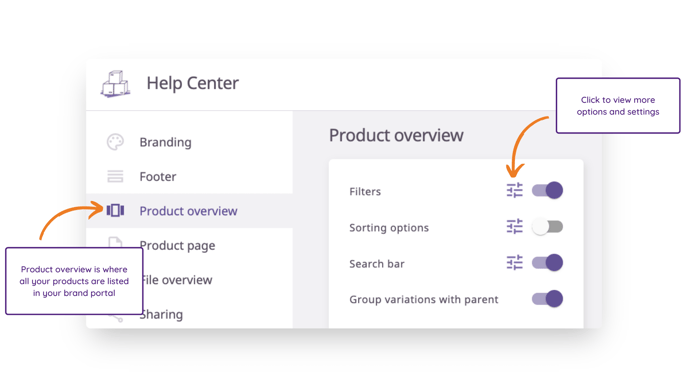 ---
Available attribute types
From the filters settings, you can add attributes to filter by. You can rename how each attribute is displayed in your brand portal, and each attribute type comes with its own set of options.
You can choose attributes of the following types:
Decimal and Integer
Dropdown and Multi-select
Categories


Decimal and Integer Type Attribute
In both decimal and integer type attributes you can select a minimum and maximum number to filter by.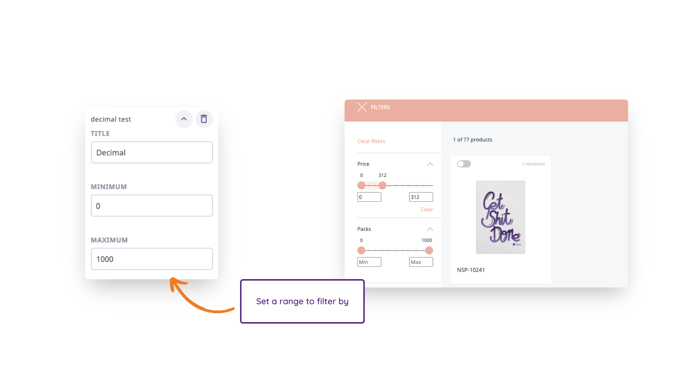 Dropdown and Multi-select Type Attributes
When it comes to dropdown and multi-select type attributes, you can choose between showing them as a list or a dropdown. See the examples below.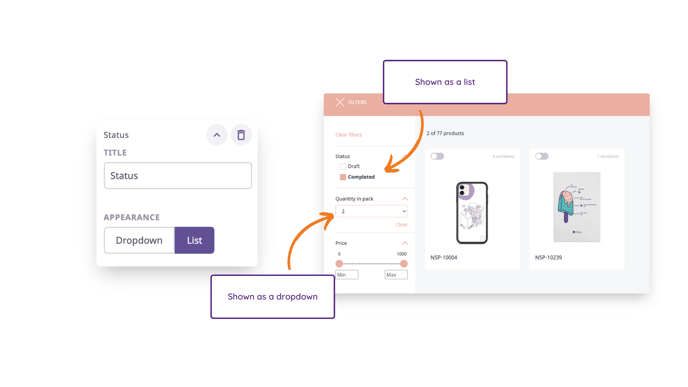 ℹ️ Displaying an attribute as a list allows visitors to filter by more than one selection.
⚠️ Displaying an attribute as a dropdown means the visitor will only be able to select one option, even if it is a multi-select attribute.
Categories
A category type attribute allows you to choose between displaying the attribute as a tree, or a dropdown. Displaying the attribute as a tree allows visitors to filter by more than one category, while displaying the attribute as a dropdown restricts visitors to filtering by one category at a time. When enabling the option to filter by categories, you can also choose the level of the category tree to show.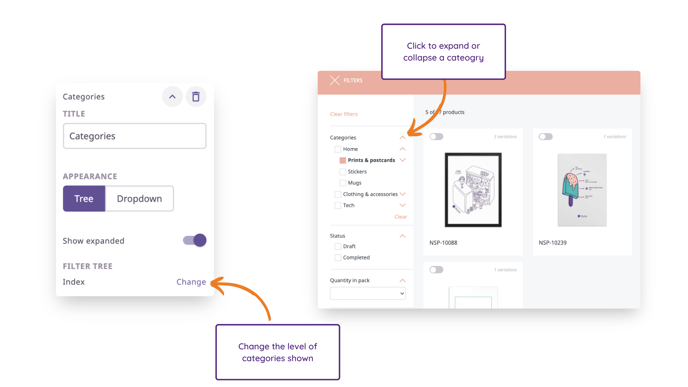 ℹ️ Choosing "Index" makes all categories assigned to a product in your catalog visible.
💡 To learn more about applying attributes and other settings within your brand portal, have a look at our article, Designing Brand Portals.
---
What's Next?
If you have any questions just click on the chat box in the bottom-right corner and we'll be happy to answer them...
and please let us know 👇