Overview of the different settings of a Brand Portal
When you click on a portal's name from the "Brand Portals" tab, you are taken to that Brand Portal's details. This page contains all the settings and information related to the specific portal. You can also access the Brand Portal designer from here.
The Brand Portal details page includes two main sections
---
Header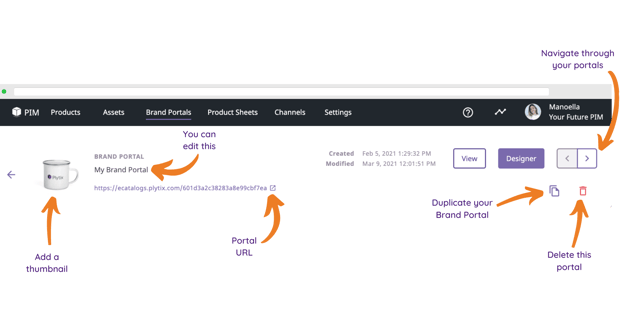 The details header lets you:
Set a thumbnail for your Brand Portal to easily identify it
Re-name your Brand Portal
Open or copy the portal URL to your clipboard
See when the portal was created and last updated
View your portal
Open the Brand Portal designer tool to customize the layout
Navigate to the previous/next portal
Duplicate your portal
Delete your portal
---
Tabs
Below the header you will find a group of tabs. Each tab contains additional settings related to your portal. This is where you can define which attributes, product group, and asset group you want to include in your portal. You can also define the export, notifications, and security settings of your portal.

From these you can
---
What's Next?
Define the settings of your portal by following the links "Tabs" section of this article.
Design your Brand Portal layout
If you have any questions just click on the chat box in the bottom-right corner and we'll be happy to answer them...
and please let us know 👇