How to generate and find your API password in your Shopify Store
When connecting your Shopify Store with any private app, you will need to manage API passwords from your Shopify Store. In order to use our Shopify connector you will, apart from the URL of your Shopify Store, need an API password in order to create a Shopify channel. In this article you will find out how to generate and find this API password within your Shopify Store.


Enabling private app development with Shopify
Generating API passwords from the Shopify admin


---
Enabling private app development within Shopify
You can enable a private app from your Shopify owner's account, for this:
Log in to your Shopify Store as the store owner.

Click on "Apps" in the admin section on the left sidebar.

Read and check the terms, and then click "Enable Private App Development". After you've enabled private app development, you can generate new passwords for a private app.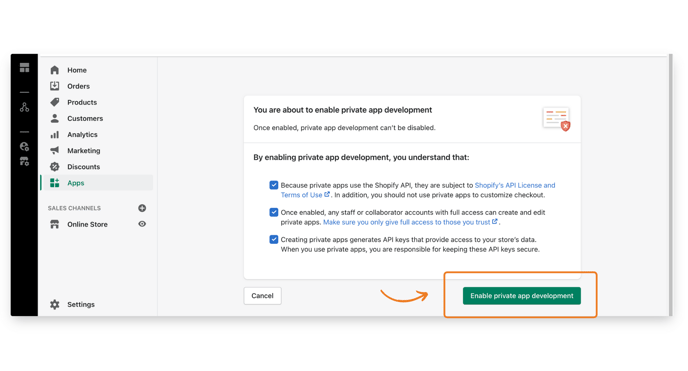 With these steps you have set the ground to be able to generate your API password.
---
Generating API Passwords from the Shopify admin
Repeat the same steps as in the section before:

click on "Apps" on the left sidebar

scroll down to the bottom of the page

click on "Manage Private Apps".

At this point you will see that the same window that before said "Enable Private App Development" now says "Create Private App".



Once you click on "Create Private App" enter a name for your private app and a contact email address in the App details section. Shopify uses the email address to contact the developer if there is an issue with the private app, such as when an API change might break it.



In the Admin API section, select the "Read And Write" permission for Products and select the Webhook API version "2021-01"




Copy and paste the API Password value and fill "complete your store url". Click "Continue".
---

What's next?


If you have any questions just click on the chat box in the bottom-right corner and we'll be happy to answer them...



and please let us know 👇