An overview of how to navigate and find your way around the Product Sheet Designer
Once you have created your product sheet you can begin to customize the style and layout. When you first enter the designer you will notice a few different sections:
---
Overview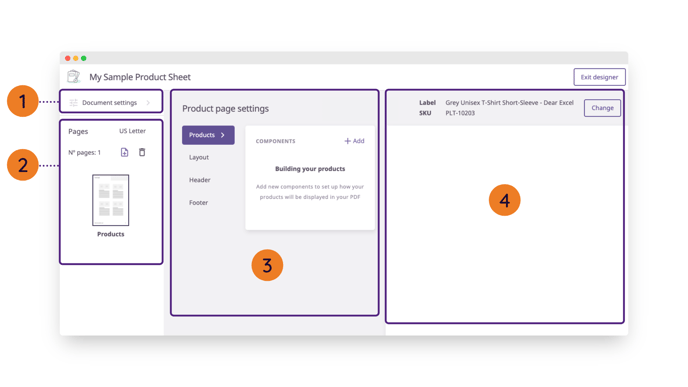 The product sheet designer is split into 4 main sections:
1. Document settings
2. Pages
3. Page settings
4. Preview
Read on for more information on each.
---
Document Settings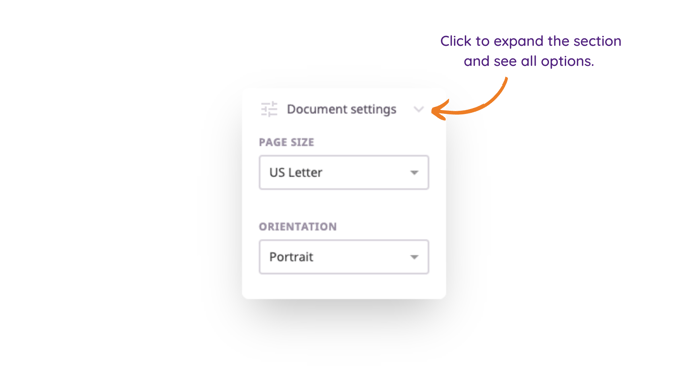 Here you can choose the page size and orientation of your PDF. There are two sizes and two orientations available:
Sizes:
US Letter (215.9 x 279.4 mm or 8.5 x 11 in)
A4 (210 x 297mm or 8.25 x11.75 in)


Orientation:
⚠️ You can switch these settings at any time while you are designing, but be aware that these changes do have consequences in terms of how much content will fit on each page.
💡 Double check your previews and Product Sheet exports after changing document settings.
---
Pages Settings
This is an overview of the pages you have designed in your PDF. There are two types of Pages - Products and non-product pages, which we refer to as Static Pages.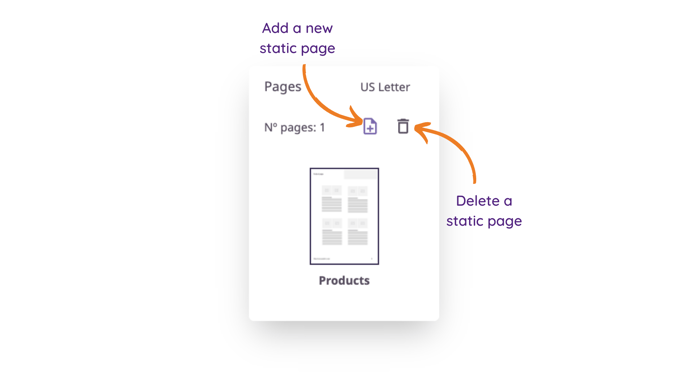 Products
The Products "page" defines how your products will appear when exported via PDF. This is where your product layouts can be edited. You only see one Products page because this serves as a template that will be applied to whichever products you choose to export via this Product Sheet Template.
Static Pages
These can be used to create covers, indexes, and other helpful and/or promotional content for your PDFs. They are called Static Pages because they do not change based on the products you export with the template.
💡 You can add an unlimited number of static pages.
---
Product Page Settings
Page settings is where you create your layouts and designs for each page. There are different settings for the Products "page" and the Static (non-product) pages.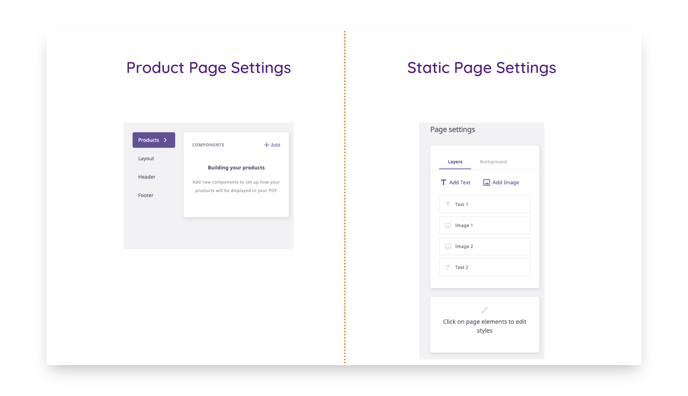 Learn how to use each in these guides provided below:
Product Page Settings
---
Preview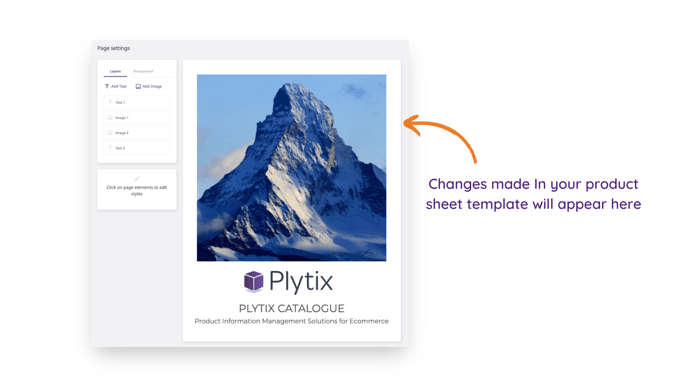 In each of the Page Setting areas, you will see a Preview area. This allows you to visualize how your styles will be applied to your Product Sheet Template.
As you edit, the preview will appear with the new styles, however you must save changes in order to apply them permanently.
ℹ️ You can choose a single product to serve as your preview product.
---
What's Next?
If you have any questions just click on the chat box in the bottom-right corner and we'll be happy to answer them...
and please let us know 👇