How to resize images when exporting to channels and brand portals.
There are times when a client requests product images in a certain size, or a channel you are selling on has different image requirements than what you have in your account. Whatever the case, you can quickly resize your product images on export to channels or brand portals. This means you can can your images in Plytix in one size, and choose the size you want them to appear on each channel and brand portal.
ℹ️ Resizing images is not available for quick exports from the product overview table.
---
How to Resize Images
To resize images on export:
Go to the channel or brand portal where you'll share the image
Click on the "Attributes" tab of the channel or brand portal
Add the media attribute to the channel or brand portal
Select the "Resize image" checkbox
Choose the new pixel dimensions
Click "Okay"
Click "Save changes"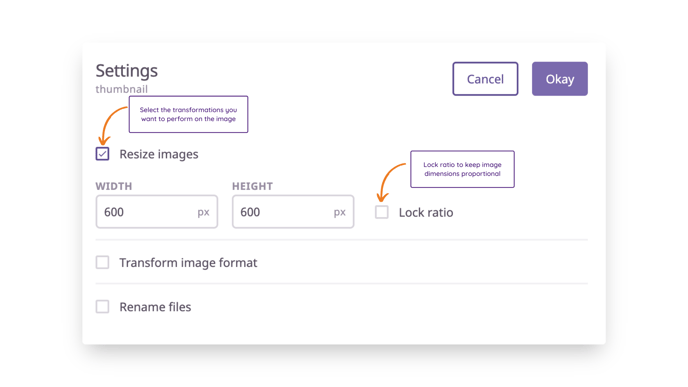 ⚠️ Locking the ratio of the image ensures the new image dimensions stay proportional. Not selecting "lock ratio" can affect the quality and presentation of your images.
💡 Original image resolution will be maintained when images are resized.
---
What's next?
If you have any questions just click on the chat box in the bottom-right corner and we'll be happy to answer them...
and please let us know 👇