How to share your Brand Portal
Brand Portals (formerly E-Catalogs in Plytix) are the quick and easy way of getting your products in front of your customers. Sharing your Brand Portals with customers can be done in two ways:
Sharing directly to social media
---
Sharing a link
This refers to simply sharing the URL of your portal, whether it's through email, text, or adding it as a hyperlink.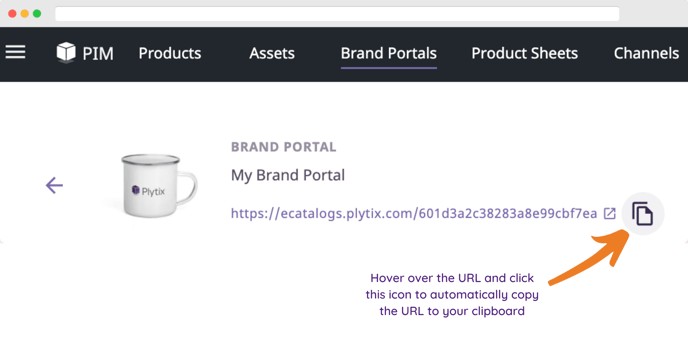 Finding and coping the Brand Portal URL is simple:
1. Click on "Brand Portals" in the top navigation menu. This will take you to the Brand Portal overview page
2. Click on the name of the portal you want to share. This will take you to the portal details page.
4. Hover over the URL shown under the name of the portal.
5. Click on the icon at the end of the URL. This will copy the URL to your clipboard.
This link will take visitors directly to your Brand Portal.
---
Sharing to social media
When designing your Brand Portal, you can enable sharing directly from the portal. When this is enabled, visitors can click the sharing icon and choose to share it directly to their Facebook or Twitter account.
Viewers can click on the sharing icon located to the right of the search bar and choose where they want to share.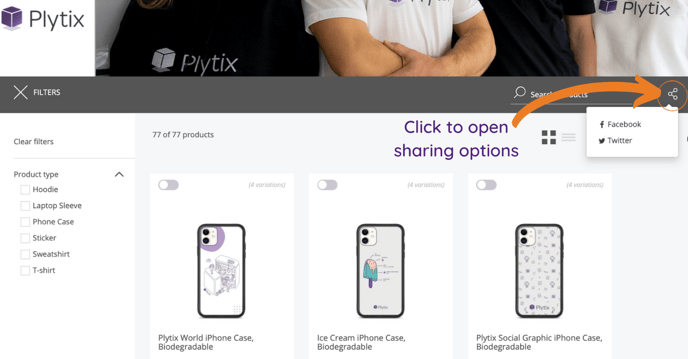 ---
What's next?
If you have any questions just click on the chat box in the bottom-right corner and we'll be happy to answer them...
and please let us know 👇