How to customize the footer in your PDF Templates
In the Product Page Settings section, you can choose to style the footer of your template.
The styling options give you two text inputs, an image selection and the ability to select the space that the footer occupies.
Height
Height allows you to change how much space the footer occupies at the bottom of the template. This number, when modified, will change the amount of space available for text and images.

Text & Link
The Text field allows you to add a line of text to your footer section. You can change the size, color, and font of this text.
You can also add a clickable link to this text by inputting a URL into the LINK space. When a link is added the text will appear underlined to show it is hyperlinked.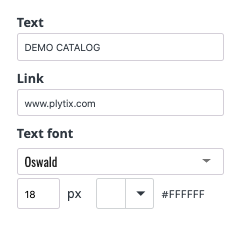 Pagination
Pagination can be activated by using the switcher.
There are two options: Center aligned or Odd/Even.
The Odd/Even selection will alternate left and right alignment based on the page number.
Pagination appears in a standard Serif font and will inherit the color of the Text input.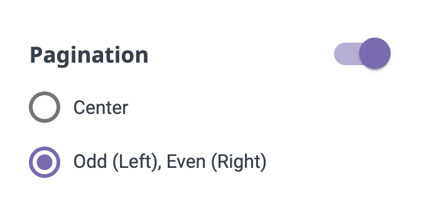 Example Footer with Pagination and Text with Link:

Background
You can also add a background image or color. These two settings can be combined to generate different visual headings.