How to navigate and find information within an Brand Portal
If a brand or manufacturer has shared their Brand Portal with you, then they want to make sure you have access to product specifications and content whenever you may need them. This article will walk you through the different parts of a Brand Portal for a seamless interaction.
There are 4 main sections when you first open the portal:
1.
Header and Navigation
2.
Filters
3.
Viewing Products and Files
3a.
Product Overview and Selection
3b.
File Overview and Selection
4.
Download Selection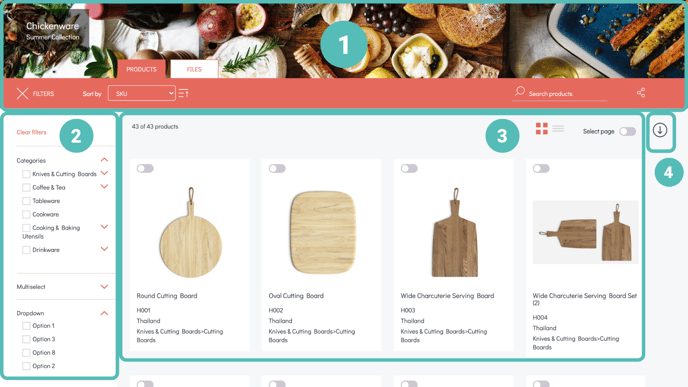 ℹ️ The options you see may vary based on the portal you visit dependent on the creator's inclusion of these options.
---
1. Header and Navigation
Here you can browse the portal and change the view.

From left to right:
Filters - Hide the filters from the overview to allow more products to be visible or to add filters to narrow your search.
Sort by - Change the order of the products shown in the view
Tabs - Switch between the "Products" view and the "Files" view
Search bar - Look for a specific item
Share icon - Share the portal with someone else
---
2. Filters
Combine different filters to narrow down your search.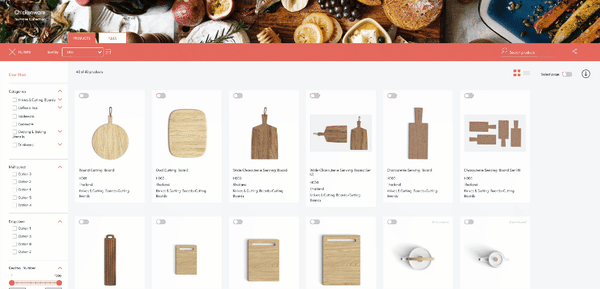 ---
3. Viewing Products and Files
Below the tab-bar you will see options to view the Products or Files in a grid or list view.
a. Product Overview and Selection
Here you can browse products and select the items you want to add to your download. The Brand Portal sort of works like a content store, where you can browse products and add them to your cart. This makes it easy to customize the content you download, so that you don't need to download all the content every time you want only a few items worth of data.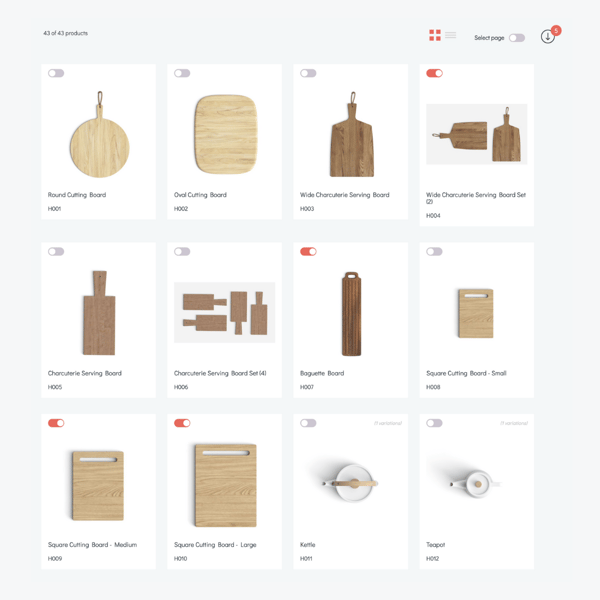 You can also open each product by clicking on its card to see a detailed product page for more information about each item.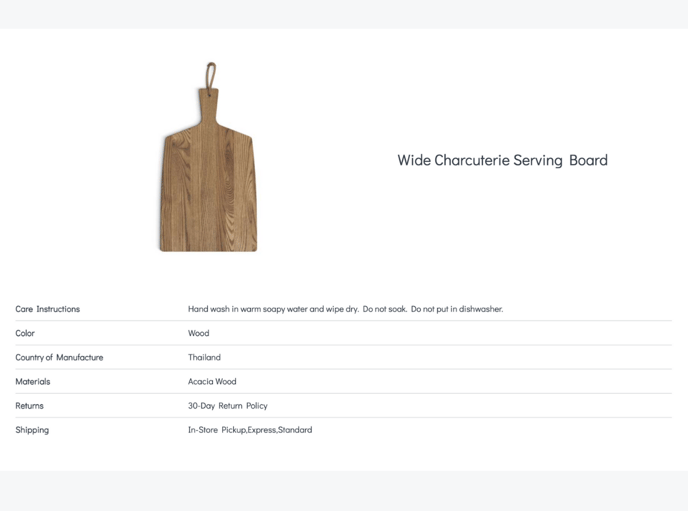 b. File Overview and Selection
Some Brand Portals have a "Files" section enabled, where you can browse all the available images, documents, and other files the creator of the portal has provided.

To get here:
Go to the header and navigation area
Find the tabs
Click "Files"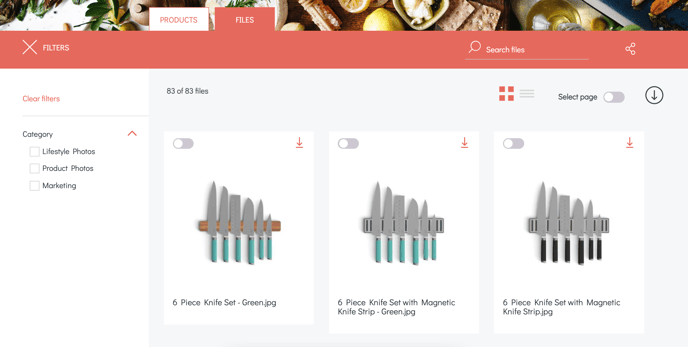 This section works the same as the Product Overview (selection and filtering), but with two main differences:
You cannot click into individual files
You can download files directly using the "direct download" icon on the corner of each file card
ℹ️ Products and Files have their own distinct download selections. However, anything you add to your download selection will be maintained when switching between products and files.
---
4. Download Selection
As you make your selection, the items you choose will be in the Download Selection. Here you may download product content you need in PDF, datasheet, or request more information about product via the "Quote" option.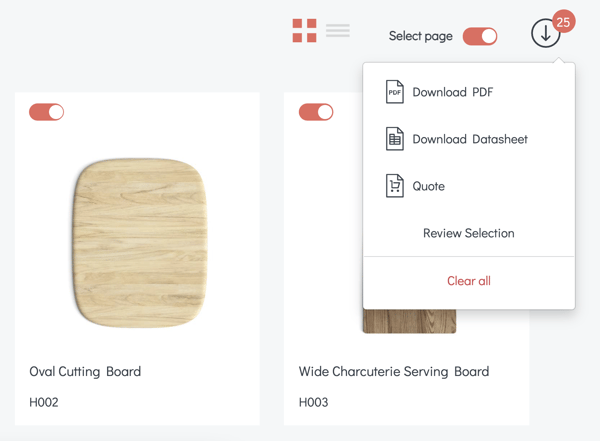 ---
What's Next?
If you have any questions just click on the chat box in the bottom-right corner and we'll be happy to answer them...
and please let us know 👇