Download content directly or in PDF, CSV, or XLSX format
Learn how to download different content from an e-catalog.
Please note that download options are managed by the creators of the catalogs, they may not have any download options enabled. Therefore options will may vary based on the catalog you visit.
What kind of content can you download?
You can download two types of content from an e-catalog:
How do I select products and files?
Use the switchers to make your selection. You will see a summary of your selection on the download icon. You can also review your selection here.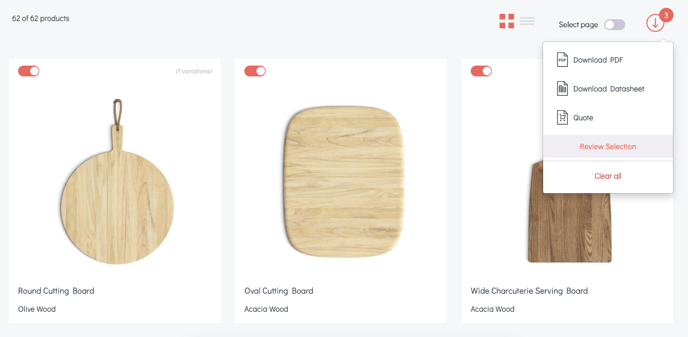 You can also go into individual files and download them directly using the direct download arrow icon.
Downloading a spreadsheet:
You can download product data including related files using the Data Sheet export option.
This will open up further options for how to format your spreadsheet. With this you can:
Select your data format - CSV or XLSX.
Select the product attributes* you want to see in your spreadsheet.
Choose to include a ZIP file of all the product assets you chose. Here you can also define the file types you want to download and if you would like to resize them. These settings will make you download a ZIP file for each selected product, which will contain all files connected to each product.
*Product attributes are all the data points related to a product like SKU, price, descriptions...etc.
To finalize your download, provide an email address where the information will be sent.
Then click DOWNLOAD
Downloading a PDF:
If the option is available to you, you can also download a PDF product sheet. Go to the download options and select DOWNLOAD PDF.
To finalize your download, provide an email address where the PDF will be sent.
How are products ordered in my downloads?
The order in which your selected products are populated into your PDF or data sheet is dependant on the order you have chosen the products to be displayed using the 'Sorting' option. Set sorting conditions and define in which order they should display in the products tab to customize your output.
How do I access my information?
When downloading from an E-catalog, you will receive your selection via email through a download link that expires after a certain time.

In the e-mail, you will see the name of the E-Catalog you downloaded from (1), a disclaimer (2), and 'Download your files' button that takes you to your data selection (3).
When clicking the 'Download your files' button, you will be taken to a download page where you can download your selection.