How to restrict access to a brand portal by password protecting it.
Brand portals, or online catalogs, are very useful both for internal and external use. You can embed them in your website giving your customers access to your product offerings. You can send them directly to customers and partners for a personalized selection. You can use them internally. The options are endless.
Depending on how you plan to use a brand portal you might want to add a layer of security to it. This article explains how you can adjust the security settings of a brand portal so that only those with the password can access it.
---
Activating a Password
First and foremost, you must create a brand portal.
1. Click on the name of a brand portal to enter the details page.
2. Click on the "Password" tab.
3. Toggle the button to enable a password
4. Type in a password
5. Save changes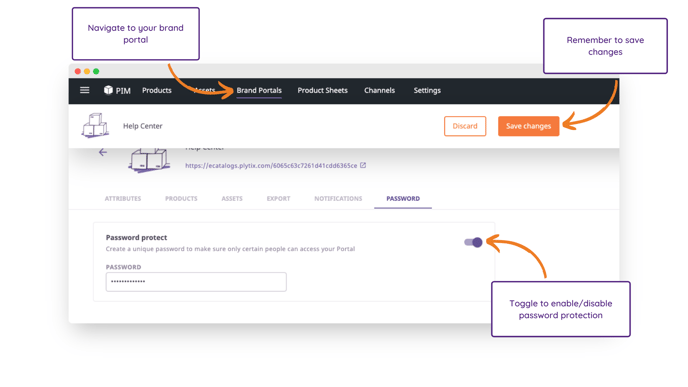 ℹ️ If you disable Password Protect, you will lose the current password and will need to type it in again (or type in a new one) the next time you want to password protect the portal.
---
What's Next?
If you have any questions just click on the chat box in the bottom-right corner and we'll be happy to answer them...
and please let us know 👇