How to add and display product relationships in Brand Portals
Product relationships are used for things like recommending similar products, creating sets and packs, upselling, and cross-selling. You can display these relationships in your Brand Portals for visitors to see. In this article, we'll show you how to add relationships to your products in a Brand Portal.
Adding relationships to brand portals
Visitors to your Brand Portal will see product relationships in the product details. That is the page you enter when they click into a specific product in your Brand Portal. Adding product relationships to your Brand Portal is a two part process.
First, you must add the relationship attributes you want to include in the Brand Portal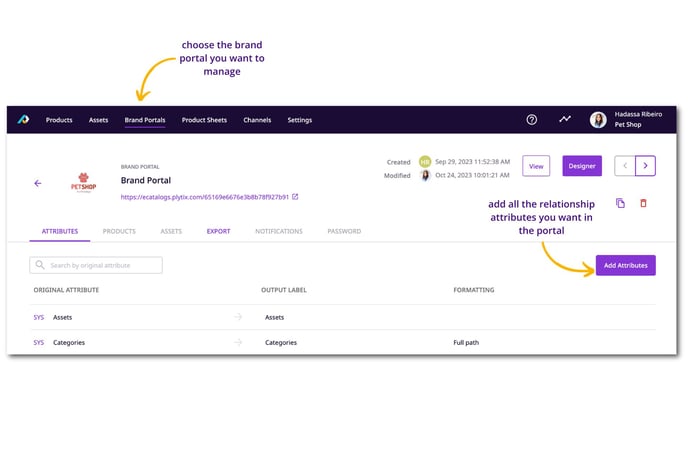 Click on 'Brand Portals' in the top navigation menu.
Click on the name of the brand portal you want to modify (this will take you to the details page).
In the 'Attributes' tab, add the relationships attributes you want to include in your Brand Portal.
Next, enter the Brand Portal designer to add relationship components to the product page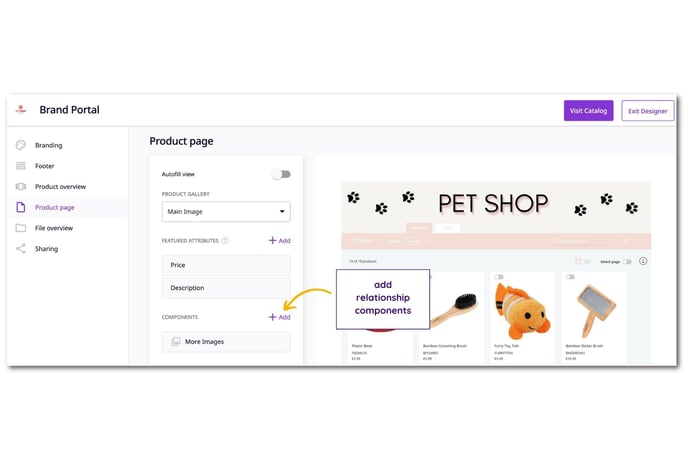 Click on 'Designer' to enter
Navigate to the 'Product page' tab
Click '+ Add' to add a new component
Choose "Relationships" type, name the component, and click 'Next'
Choose a relationship from the dropdown (only relationships you added to the attributes tab will show here) and click 'Next'
Define which attribute to use for product title
Define which attribute to use for thumbnail
Choose up to three attributes to feature for your relationships
Define the layout (how you want the relationships to appear)
Click 'Add'
The relationship will now appear with your products in your Brand Portal.
ℹ️ You must add a new component for every relationship attribute you wish to include. For example, if you want the relationships "Matching," and "Related to," you must add two relationship components to your product page.
💡 Drag and drop components to arrange how they are displayed in the product pages of your Brand Portal.
---
What's next?
If you have any questions just click on the chat box in the bottom-right corner and we'll be happy to answer them...
and please let us know 👇