How to upgrade or downgrade your Plytix account to meet your needs
At Plytix we have three main plan types: PRO, Standard and Free. In addition to these, you can mix and match the features you need to create your own custom plan by adding Channels, Brand Portals or Product sheets to your subscription. The management of your plan is done in the 'Plan' tab of the account settings area.
ℹ️ Both the Standard and PRO plan will appear with the "PRO" label in your account settings area.
---
Accessing the accounts area
To access the accounts area in Plytix, you can navigate to accounts.plytix.com.
You can also access this area by clicking on your profile picture in the top right corner of your account. From here, click on the settings icon and select the 'Plan' tab.
How to change your plan
Here you can find the next payment date and amount for your current plan. If you would like to upgrade or downgrade to your plan, click on 'Change plan'. You may also reach out to your account manager or connect with us via live chat if you would like assistance.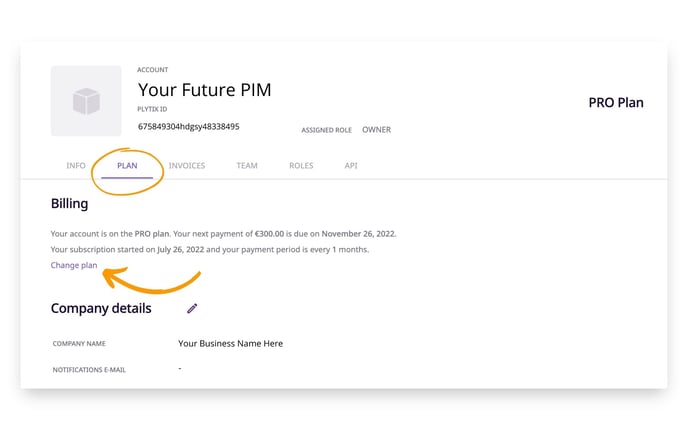 ---
What's next?
If you have any questions just click on the chat box in the bottom-right corner and we'll be happy to answer them...
and please let us know 👇