How to navigate the account settings area
The Account Administration area of Plytix gives an overview of the account usage. It is also where owners and admins of an account can manage users and teams, plan and billing information, and API keys.
*Skip to any section in this article by clicking on the links above
---
Accessing the account administration area
There are two ways to access the Account Administration area.
1. Directly by navigating to accounts.plytix.com.
2. By clicking on your profile picture in the top right corner of the platform, then on the settings

icon in your profile overview.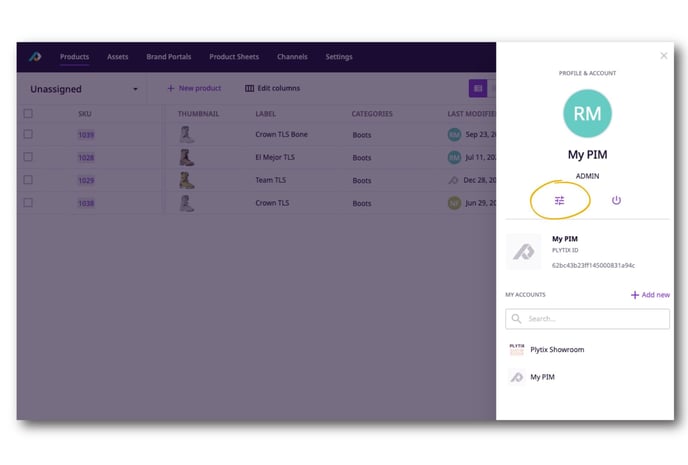 ---
Account Summary
When you enter the Account Administration area, you will be taken to the account information area, which contains a summary of all of your account's data, including:
SKUs
assets
team members
attributes
storage use
API keys
Channels, Brand Portals, and Product Sheets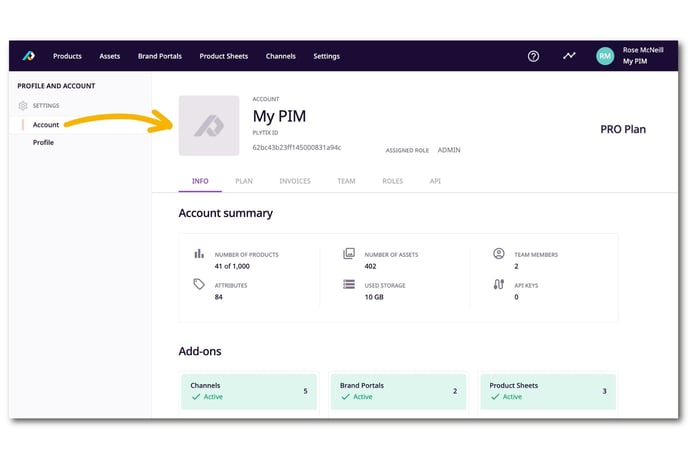 At the top of the account settings area you will find your account information: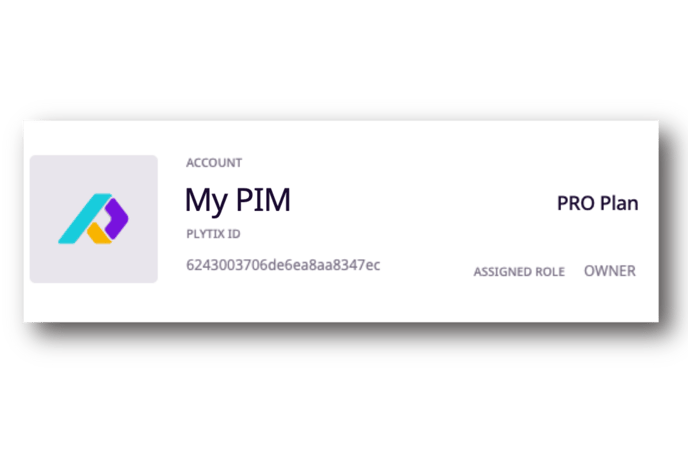 Profile
On the left menu of the Account Information area, you'll see that below account you can click on 'Profile' to display information specific to the user who is logged in. Here you can edit personal information including:
Name
Job function
Username
Password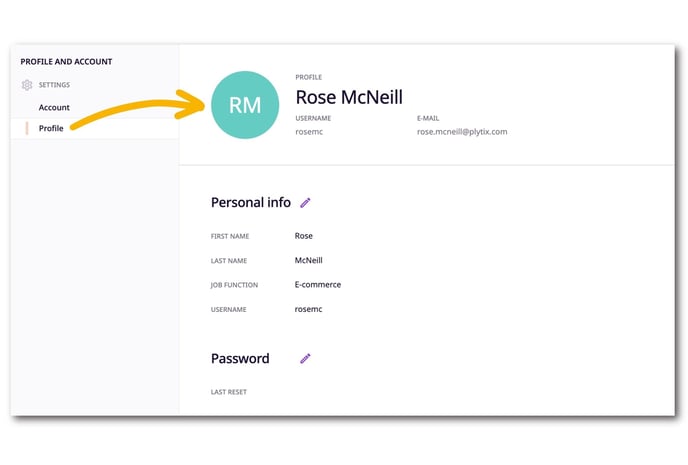 Notifications
Coming soon!
---
Account Information Sections
Below the header you will find different sections where admins can manage different settings.
ℹ️ The sections you see depend on the permissions set for your user role.
---
Info
This section gives you an overview of the contents of your account, which add-ons are active, and any account limits included in your plan. All users have access to the 'Info' section.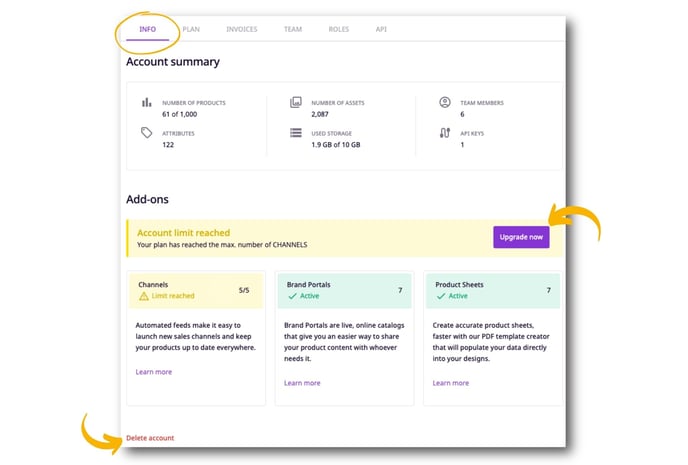 Modules are displayed based on your plan.
Add ons not included in your plan are displayed in gray.
Add ons included in your plan are displayed in green.
Adds ons whose limits have been reached are displayed in yellow.


You may also delete your account from this area.
If your plan has limits on number of products or storage, you'll see these numbers appear in red, with an "Account limit reached" message with a link to upgrade your plan.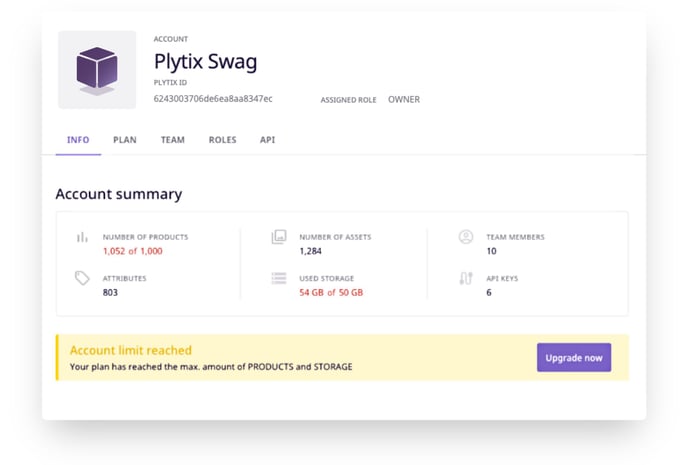 ℹ️ If you would like to increase your account limits or activate an add-on, please reach out to your customer success manager.
---
Plan
The details of your subscription live in this section. This is where you can manage your subscription plan, add or edit company details, and add or change your credit card on file and view your payment method.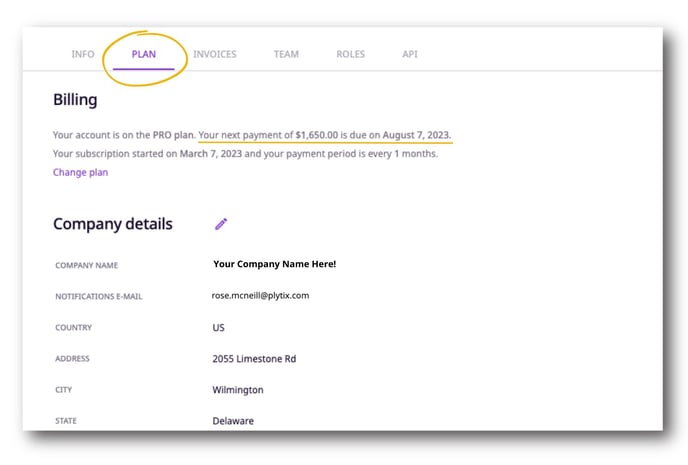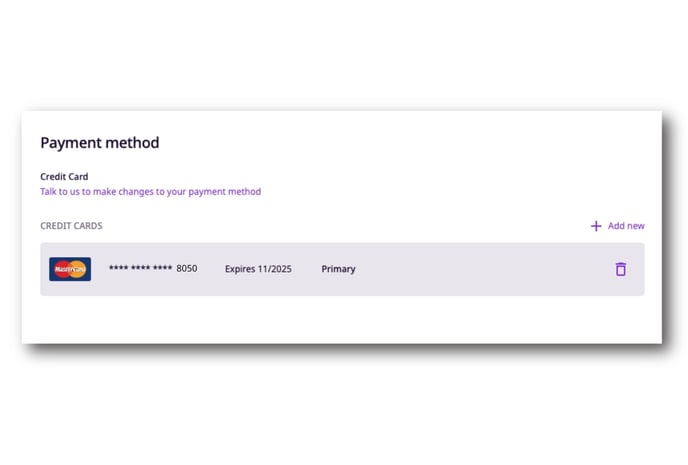 ---
Invoices
Keep track of all your invoices here. Use the filter to sort invoices by year issued.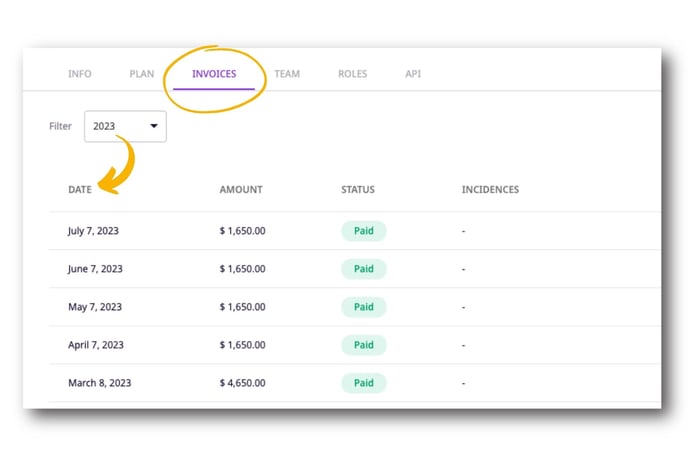 ℹ️ Learn more about how to view your invoices.
---
Team
From here you can invite, block, and remove users. You can also assign users a role.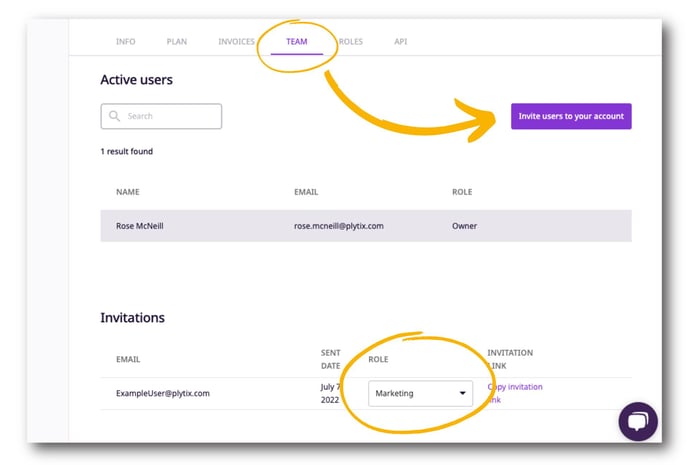 ---
Roles
In this section, you can view and create permission schemes for your users.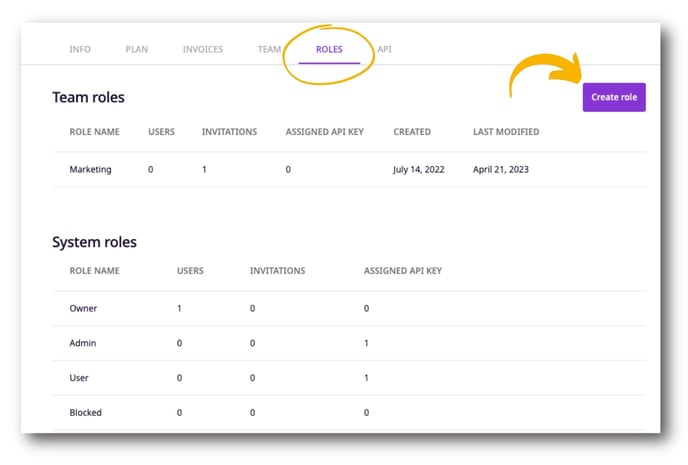 ---
API
In this section, you can generate new API keys to use for integration with other tools.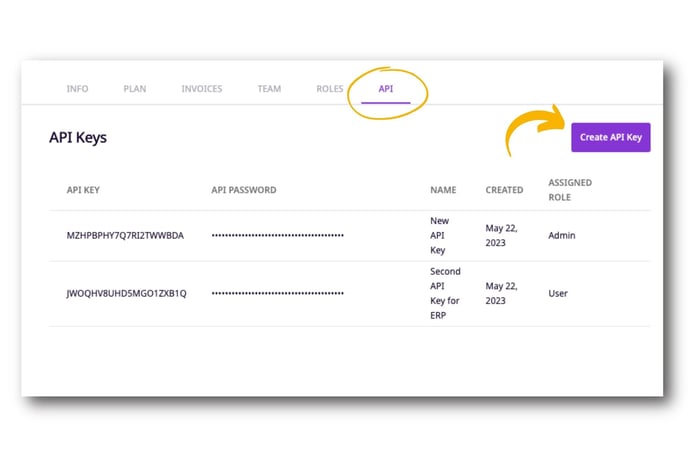 ---
What's next?


If you have any questions just click on the chat box in the bottom-right corner and we'll be happy to answer them...
and please let us know 👇