How to manage billing information, invoices, and, change payment methods
All Billing related matters can be managed from the Accounts area under the Billing tab. Users need admin permissions in order to see and edit this information. In this section you can:
Accessing the accounts area
To access the accounts area in Plytix, you can navigate to accounts.plytix.com.
You can also access this area by clicking on your profile picture in the top right corner of the platform.

How to update billing information
The billing information is what we use to generate your invoice. To update this information go to the Billing Information area in the Billing section and click EDIT.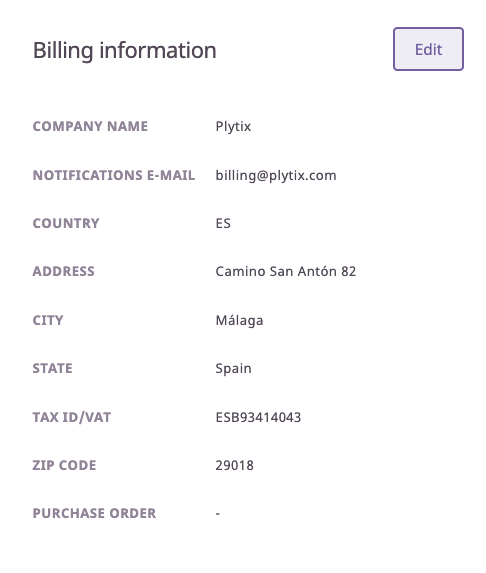 The notifications email is where we will send the invoices. You can add multiple emails separated by a comma.
How to update payment methods
There are two ways to pay: Credit Card or Bank Transfer. To make changes to this payment method, please contact us.
CREDIT CARDS
This is the default payment method and you can add multiple credit cards to your account. Please note that AMEX will carry an extra processing fee. The card you set as PRIMARY will be the one that is charged.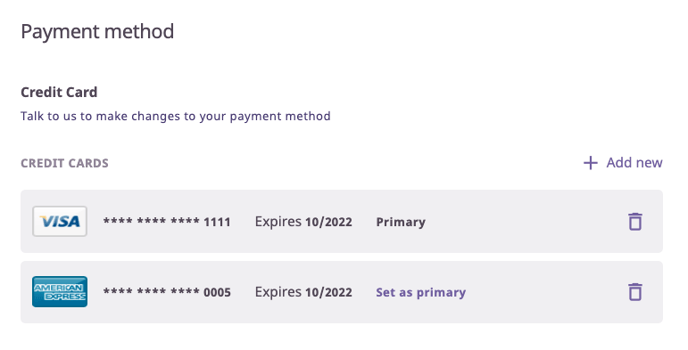 BANK TRANSFER
For bank transfers, you will need to set this up with your account manager.
How to consult invoices and payment dates
Your invoices will be available at all times in the INVOICES area. Your Next Payment Date is located in the PLAN OVERVIEW area.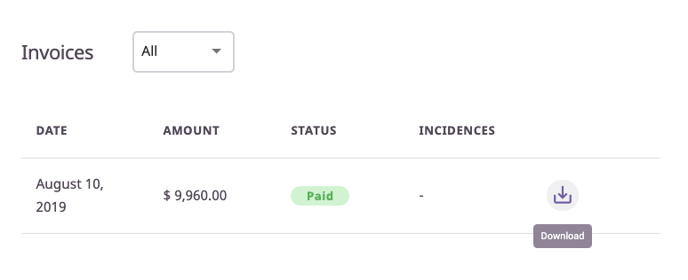 The different table columns are as follows:
Year Selector - Filter invoices from different years
Date - This is the date the invoice was issued.
Amount - This is the amount due.
Status - This tells you what stage the invoice is in. This could be PAID, SCHEDULED, or FAILED.
Incidences - If there is something wrong with your payment, that will show here with an explanatory message like "Cardholder Limit Exceeded" or "Card Expired".
Download - You can download a PDF version of your PDF at anytime