How to add, delete, and manage users in your account
The Account Administration area of Plytix is where you will be able to manage your users if you have admin permissions. Non-admins will not be able to manage users. In this section you can:
Change user roles (coming soon)
Accessing accounts & teams
To access the accounts section in Plytix, you can navigate to accounts.plytix.com.
You can also access this area by clicking on your profile picture in the top right corner of the platform.
Then go to the TEAM tab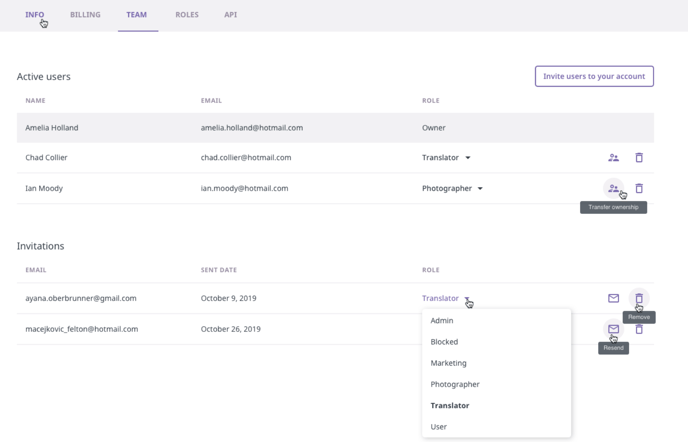 How to invite users to your account
You can invite unlimited users to your account. Inviting users is the only way to get people to join your account.
Click on the button INVITE USERS TO YOUR ACCOUNT
In the pop up screen, type in the person's email you would like to invite.


Select the user's intended role upon arrival to the platform (coming soon)
Click SAVE
Then an invitation will be sent to this person via email. They will need to accept this invitation in order to join your account.

You can always resend invitations if need be or even delete them to invalidate the invitation.

How to delete existing users
Deleting users will erase them from your account. The only way to get them back in is to invite them to join.
In the ACTIVE USERS table, locate the person you would like to delete
Hover over their row and in the far right you will see the icon appear to delete the user
Confirm that you want to delete the user and click DELETE