How to create and access additional Plytix accounts from your user profile
Did you know anyone can create and access additional Plytix accounts directly from their user profile? That's right. No need to use a different email or log out and back in when working across multiple accounts.
In this article we will go over:
Why you may need an additional account
How to add an account from an existing account
How to navigate between accounts
---
Why have multiple accounts?
There are various reasons why a user might need a second (or third) account.
Test or sandbox account
Train new collaborators
Empty account
Company with different brands
Sister company
Whatever the reason, you can quickly create a new Free account while logged in.
When logged in to your user account, you can navigate between all the accounts you either own or have joined. But remember, these accounts are completely separate from one another. This means collaborators in account "A" cannot see information in account "B," unless they are also invited to that account. It also means information does not transfer between accounts.
⚠️ Accounts are independent from one another. Information from one account does not transfer to another automatically. If you want the same information in two accounts you will need to update each one individually.
---
How to create an additional account
If you already have a Plytix account you can create an additional account directly from the platform.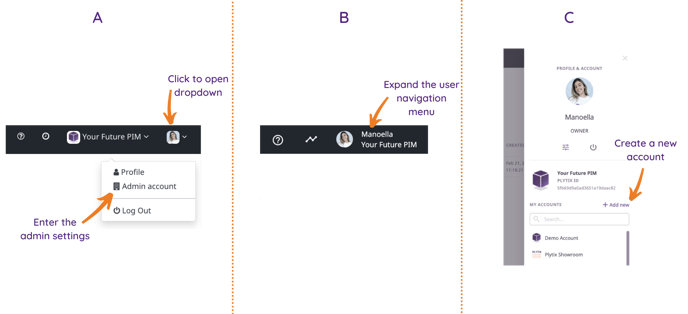 To do so:
Click on your user thumbnail on the right side of the top navigation menu
Select "Admin account" from the dropdown
Click on your username on the right side of the top navigation menu. A side menu will open
Select "Add new"
Add your new account details

Company name (this will be the account name)
Company website (remember to include https://)
Company type

Define if you want an account with sample data or an empty account
Click "Create an account"
ℹ️ We are in the process of redesigning the Plytix platform to make it more user friendly. Because of this, depending on the section of Plytix you are in, you may skip directly to step 3.
---
Navigating between accounts
When you have multiple accounts connected to your user profile you can easily and quickly navigate through them without needing to log out and back in. To do so, follow the same steps as above until you reach the user side menu on the right.
In the side menu you will find all the accounts you have access to: both by invitation and creation. Click on an account name to enter it.
---
What's next?
If you have any questions just click on the chat box in the bottom-right corner and we'll be happy to answer them...



and please let us know 👇