How to define if an asset can be crawled by search engines or not
You can set assets you upload to Plytix as "Private" or "Public." Set an asset to "Private" to ensure that search engines cannot crawl the URL. This is usually done with internal assets. Set an asset to "Public" when you are okay with this asset appearing in search engines. This articles teaches how to set an asset's privacy one by one and in bulk.
⚠️ Setting an asset to "Private" means the asset will not be crawled or listed in search engines. However, anyone with access to the URL can download the asset.
💡 Link internal assets to a Media Gallery attribute to avoid sharing them publicly.
---
How to Set Privacy (Individual)
You can set an asset's privacy directly from the asset's details page.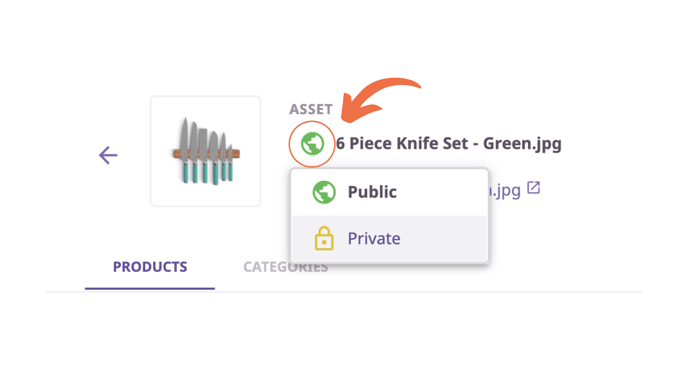 From "All assets" navigate to the asset's detail page by clicking on the asset's name

Click on the icon next to the asset label

From the dropdown, choose if you want the asset URL to be Public or Private
---
How to Set Privacy (Bulk)
You can also set the privacy of various assets at a time from the asset overview table.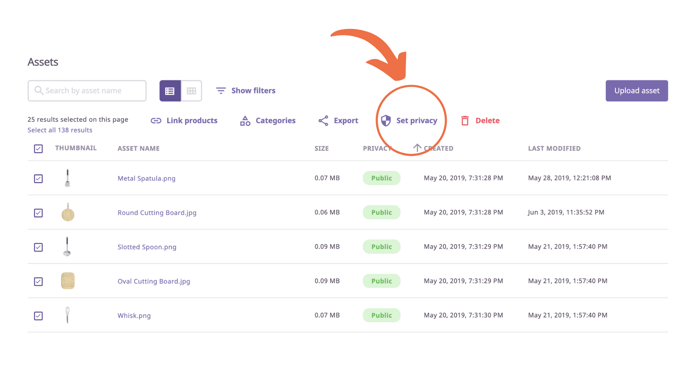 Click on "Assets" in the top navigation menu
Choose "All assets" from the dropdown
Select the assets you want to set as either Public or Private
Choose the bulk action: Set Privacy
Select the option you want and click "Save"
---
What's Next?
If you have any questions just click on the chat box in the bottom-right corner and we'll be happy to answer them...
and please let us know 👇