How to process a Shopify channel in Plytix to sync your product data to your Shopify store
This article explains the details of processing a Shopify channel in order to load your products in Shopify for the first time, or update them, with the information you have stored in Plytix.
If your channel is not yet ready for processing, follow the steps in this article to prepare for the final step outlined below.
*Skip to any section in this article by clicking on the links above
---
Processing
To process your channel, press the 'Process Now' button at the top right of the channel.
Before processing your products, you will see options for how to send data. These are the same options as in the scheduling section of Creating and Managing a Shopify Channel.
Feed Data
This tells Plytix which products and assets to send to your store from your product list. You can choose to send:
'All' products or assets (default)
Only products that are newly added to the list or 'Created'
Only products from the list that have been 'Modified'
Or any product or asset that has been 'Created or Modified'
ℹ️ These options affect the processing times of your feed. For example, choosing to send all products will result in a longer time when compared to only sending those products that have been modified.
The 'Reference Date' tells Plytix after which date to consider products that have been created or modified.


For example:
In this scenario, this feed will process only products and assets created after 09:57:34 UTC April 01, 2021.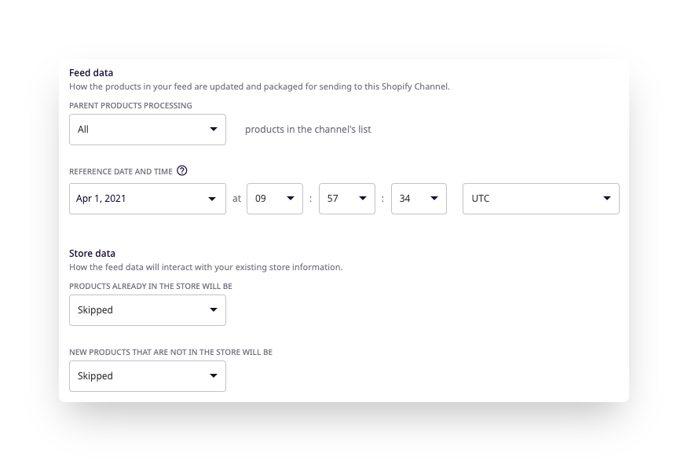 💡 By default the channel will process all products and assets. To reduce processing time, change this to include only modified items.
Store Data
This tells Shopify how to manage incoming data. You can decide if products already in your store will be updated or not, as well how to manage new products that are not yet in your store.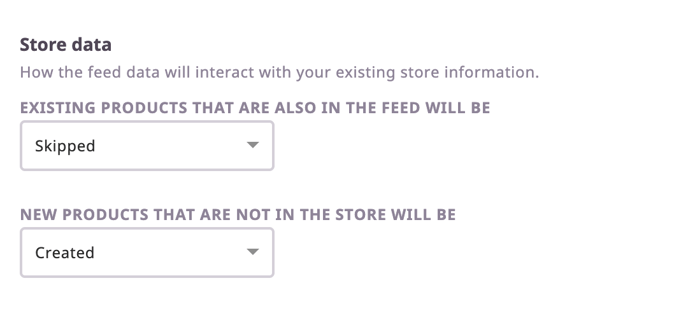 Summary
When manually sending information by clicking the 'Process Now' button, you will also get a summary of what you are sending to make sure everything is correct. Click 'Start Processing' to begin syncing information to Shopify.

After Processing
Return to your Shopify account and refresh to see that the products from your Shopify channel in Plytix now appear in the 'Products' section of your store.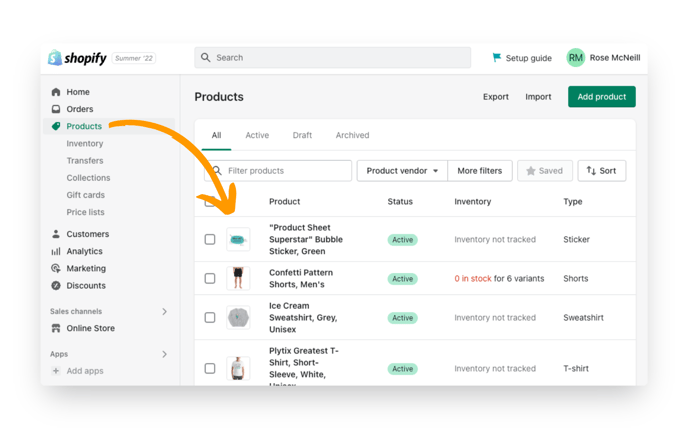 If you process your channel and your products do not appear, or you receive an error in the 'Process Log' tab of your channel, check what happened by clicking on the date/time processed and then the 'Result messages' icon next to the error. Make any changes necessary and process again.
If you still experience difficulties, contact your customer success manager or reach out to us via chat or email.
---
What's next?


If you have any questions just click on the chat box in the bottom-right corner and we'll be happy to answer them...
and please let us know 👇