Use our Shopify connector to send product content directly to Shopify stores
Sync data between Plytix and Shopify stores with our direct integration. In this article we will show you how to set up a Shopify channel.


⚠️ This feature isn't available for all accounts yet. Reach out to your customer success manager to get access to this feature.
---
Creating a Shopify Channel
The Shopify integration can be found in the Channels add-on. To create a new Shopify channel:
Navigate to the "Channels" area
Click the "Add Channel" button on the right
Then give your Channel a unique name
Choose the "Shopify" Channel type
Choose either an existing connection or connect a new store
Add the store URL* of the Shopify store you want to connect with
*only insert the root of your domain (without the "https://")
Then click "Add Channel" on the top right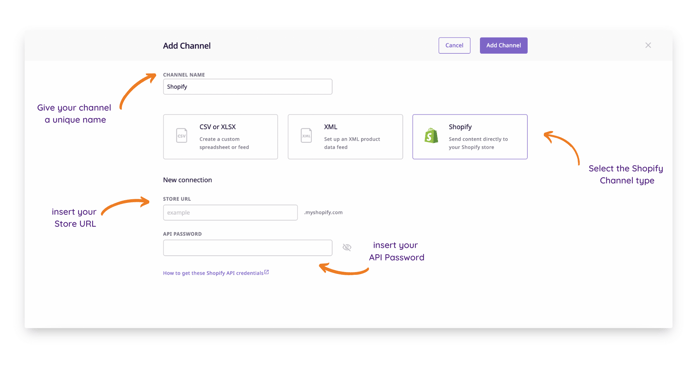 If you are creating a connection with a new store, this will redirect you to your Shopify store where you can authorize the connection and install the Plytix app. Once you have done this, then you will need to return to Channels to continue the process.
---
Channel Dashboard
The channel dashboard gives you essential information about the channel. Here is a quick tour:
Channel Name and Status
At the top left, you can see a section that shows the channel name and type.

Here you can:
Change the channel name, click "enter" to save


Change the status to make the channel "Active" or "Inactive"



Go back to the channel overview by clicking on the arrow

Processing Information
At the top right, you can see information related to processing the channel.

Here there is a few bits of information and some actions you can take.
Information:
Created: the time the channel was created
Modified: the last time the channel was updated in any way
Processed: the last time a channel was processed either manually or on a schedule
Actions:
Process Now: this will manually process the channel, pushing information to your Shopify store
Preview: See what your product content looks like before you send it
Test Connection: this tests to see if your store connection is still valid
Arrows: these arrows will take you to the previous/next channel
---
Process Log
The process log shows the records of the last time information was pushed from Plytix to Shopify. If this is your first Shopify channel the log will be empty until you process it for the first time.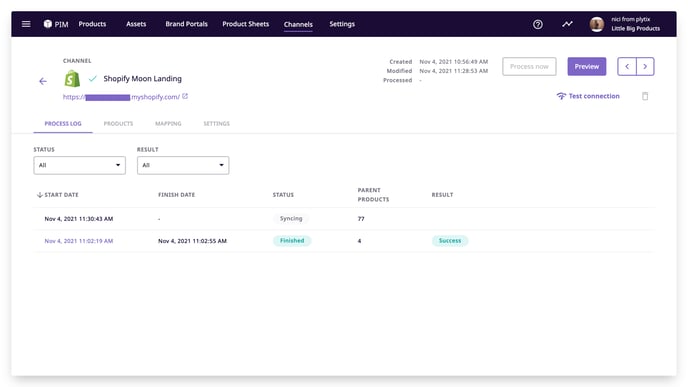 The log shows:
Start Date: the date and time the process was started
Finish Date: the date and time the process completed
Status: if the process is "Syncing", "Processing" or "Finished"
Nº. Parent Products: how many products were processed
Result: if the information was sent correctly, as "Success", if not, as "Error"
ℹ️ Once you process a Shopify Channel, the processing is divided into two stages: "processing" and "syncing": during the "processing" Plytix processes the information from the channel into a package, then Plytix sends that information to Shopify where the information will get "synced" with the store.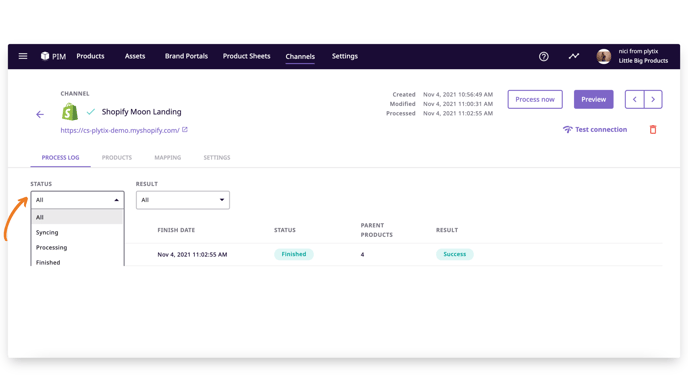 Log Detail
If there are any errors in processing, you can check what happened at a product-level by clicking on the "Start Date". This will take you to the log detail.
Here you will be able to review error messages from Shopify to remedy the issue.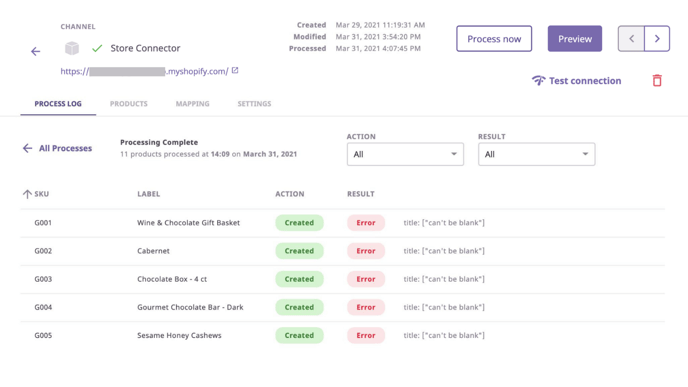 In the log detail you can also see:
Action: if the product was "Created", "Updated", or "Skipped"
Result: if the product was correctly processed, as "Success", if not, "Error"
To the right of the result you can see any associated error message.
---
Products
In this section, you will assign a product list to your Channel. This product list defines the products that will be sent to this Shopify store.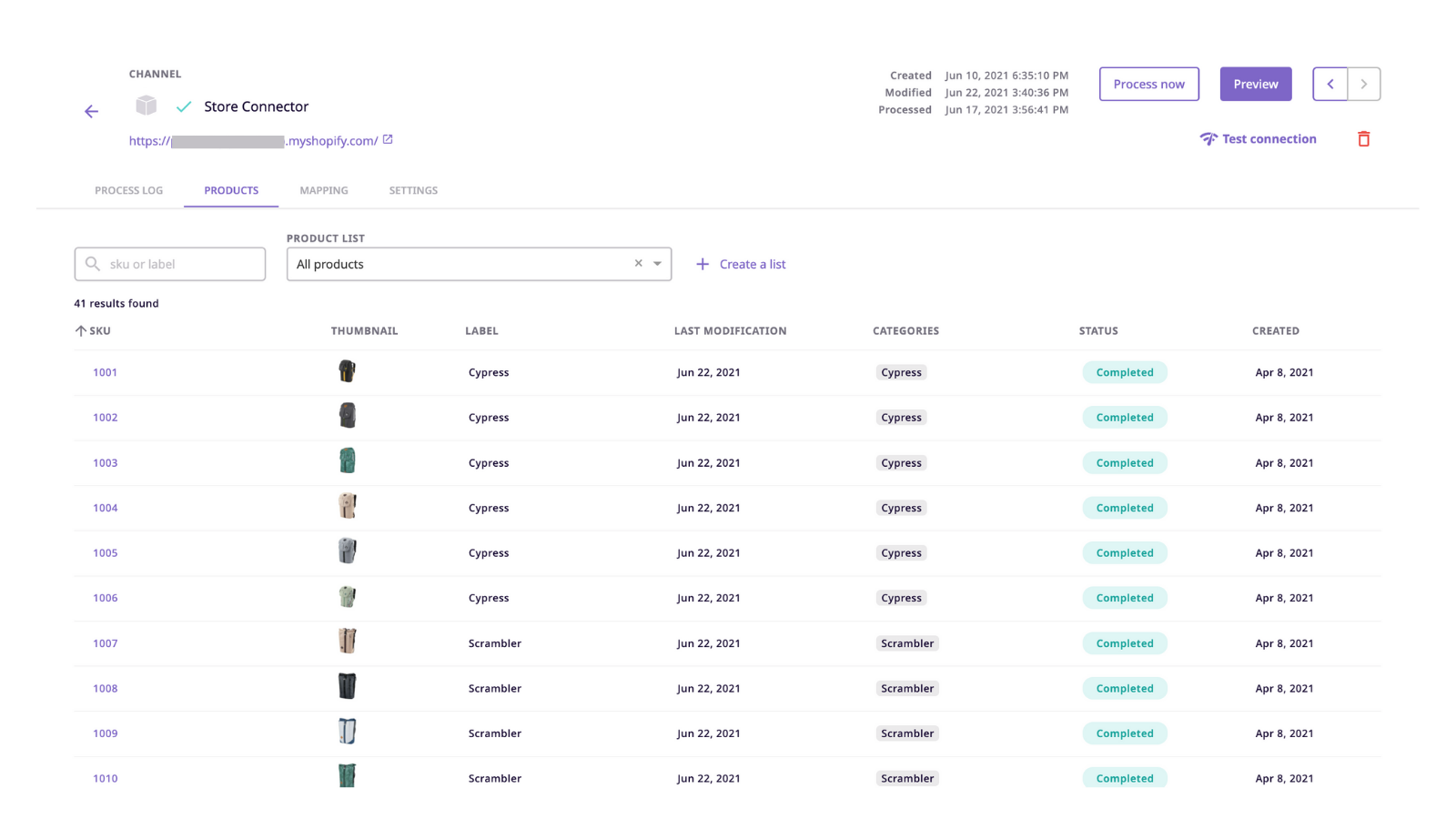 ---
Mapping
Here you will match attributes from Plytix to Shopify fields.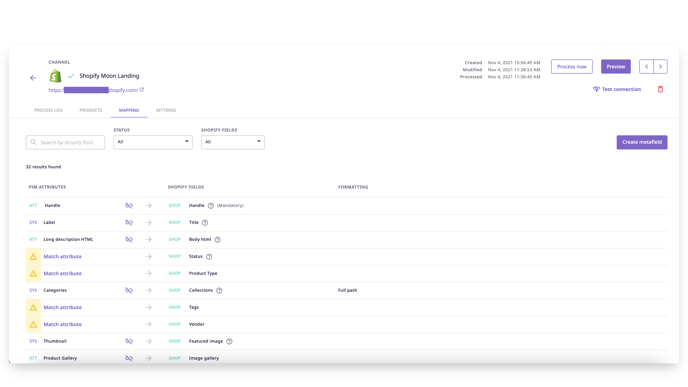 Shopify Fields
There are a few required fields to make sure your product content gets to your Shopify store:
Handle
Title (when creating new items)
Each Shopify field has certain requirements for formatting. 👉🏼 Use this guide 👈🏼to make sure you match the right content from Plytix to Shopify.
⚠️ Handle and Title are required fields when creating new items
Mapping Attributes
To map a new attribute:
Click on "Match attribute" in the "PIM Attributes" column
Select the attribute you want to match, or create a Computed Attribute
Then click "Apply"
To save your changes, click "Save changes" in the save bar that appears at the top


To unmatch, click the "unlink" icon.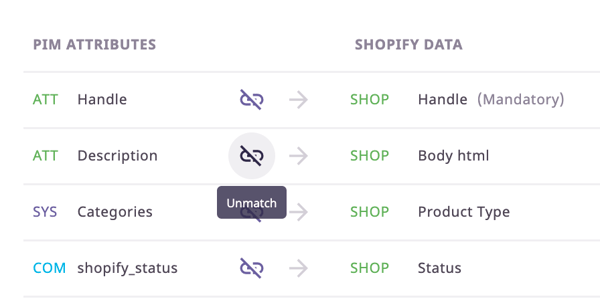 Formatting Attributes
Just like with other channels in Plytix, you are able to make attribute transformations for each of your attributes. To do this:
Hover over the attribute you want to edit
If it has transformation options available, a "Settings" icon will appear to the right
Click the "Settings" icon, and all the options will appear


Make your changes
Click "Apply"
Click "Save Changes" to keep your transformations
---
Settings
The Settings tab lets you set up feed scheduling and how metafields are managed and feed scheduling.
Scheduling
To enable feed scheduling, click on the button in the "Scheduling" box. This will open settings that will help you configure how and when information is automatically sent to your store.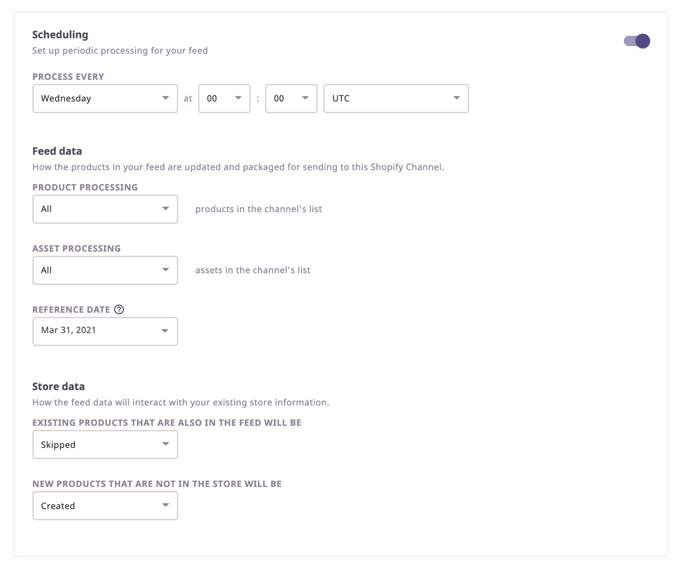 Feed data and Store data options will be explained in the next section "Processing".
Metafields
This setting tells Shopify what to do with the metafields you have created in Plytix.

---
Processing
When you press the "Process Now" at the top right of the channel, before processing your products, you will see options for how to send data. These are the same options as in the scheduling section.
Feed Data
This tells Plytix which products and assets to send to your store from your product list. You can choose to send:
"All" products or assets (default)
Only products that are newly added to the list or "Created"
Only products from the list that have been "Modified"
Or any product or asset that has been "Created" or "Modified"
ℹ️ These options affect the processing times of your feed. Choosing to send all will result in a longer time when compared to only sending those that have been modified, for example.
The "Reference Date" tells Plytix from after which date to consider products that have been created or modified.
For example:
In this scenario, this feed will process only products and assets created after April 01, 2021
💡By default the channel will process all products and assets. Change this to only include modified items to reduce processing times.
Store Data
This tells Shopify how to manage incoming data. You can decide if products already in your store will be updated or not, as well as new products that are not yet in your store.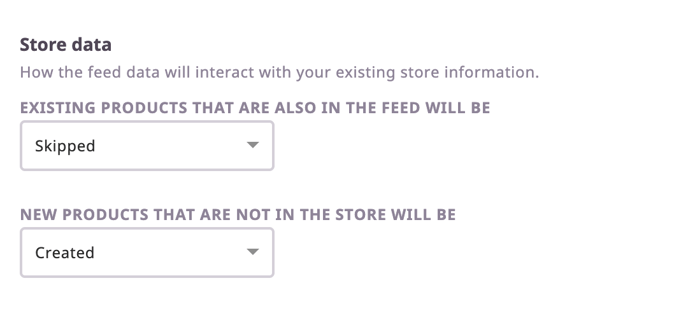 Summary
When manually sending information by clicking the "Process Now" button, you will also get a summary of what you are sending to make sure everything is correct. Click "Start Processing" to begin syncing information to Shopify.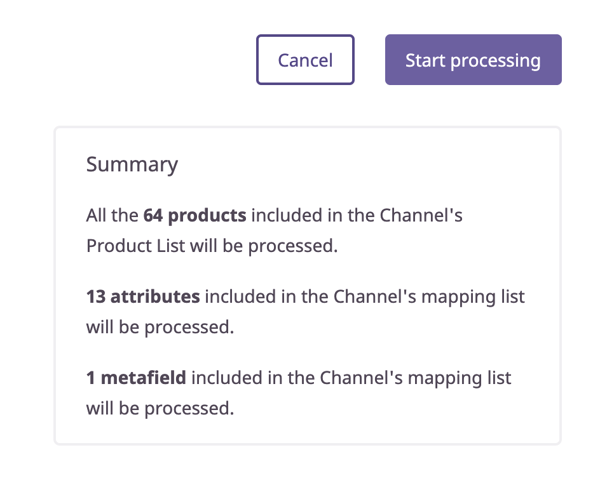 ---
What's Next
If you have any questions just click on the chat box in the bottom-right corner and we'll be happy to answer them...
and please let us know 👇