How to manage your channels in Plytix from the channel overview and channel detail page
ℹ️ To learn how to create a channel feed for syndication, check out the article: Creating a channel.
*Skip to any section in this article by clicking on the links above
---
Channel Overview
You can view and access all the channels in your account from channel overview. To get to the channel overview, click on the "Channels" tab in the top navigation menu.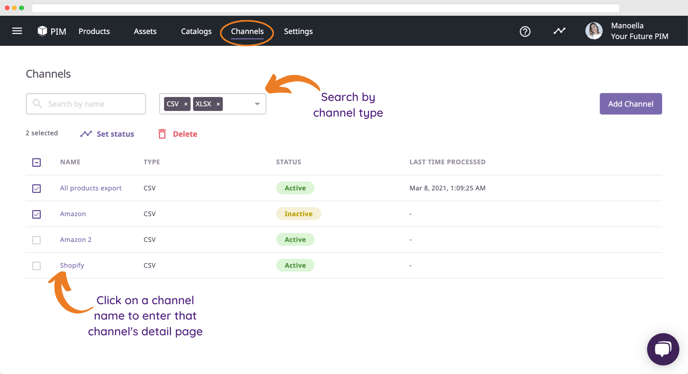 From here you can:
Create a new channel
Search and filter by channel type (CSV, XML, XLSX, and Shopify)
Change the status of channels
Delete channels
---
Channel detail

When you click on a channel name in the channel overview, you will enter that channel's details page. This is where you can set up and modify that channel's settings.
ℹ️ For more details on modifying a channel's settings, see the article on creating a channel.
You can also:
1. Duplicate a channel
2. Delete a channel
💡 Duplicating a channel can save time in creating and setting up similar channels.
---
What's Next?
If you have any questions just click on the chat box in the bottom-right corner and we'll be happy to answer them...
and please let us know 👇