Learn what product attribute groups are, and how to create and manage them in Plytix
Whether you have 20 or 20,000 Attributes in your PIM account, Attribute groups can make it easier to find, edit, and keep your product information up to date. In this article, we will show you where you can create, edit, and delete your product attribute groups.
*Skip to a section in this article by clicking on the links above
---
In the video below, Risa explains how to get to the attribute group settings, add, edit, and delete groups. Read on for a step by step guide.
---
Creating Attribute Groups
To create an attribute group:
Navigate to "Settings" in the top menu.
The Settings area will automatically open in "Product Attributes". Click on the tab to the right called "Groups".
Click on the purple "+ Create group" button.
Name the group (you can change this later) and click "Next".
Choose from attributes under Available attributes. Chosen attributes will then appear on the right under Selected attributes.
To sort the attributes drag and drop them in the order you'd like. You can also delete attributes by clicking the X to the right of that attribute's name.
click "Save".
You've now created a new attribute group.
ℹ️ New groups will go to the bottom of the "Groups" list. You can drag and drop the group to sort it in the order you'd like.
---
Managing Attribute Groups
To edit an Attribute group, hover over the group block and three icons will appear.

Edit an attribute group
| | |
| --- | --- |
| | Clicking on this icon will open the attribute group so you can begin editing it. |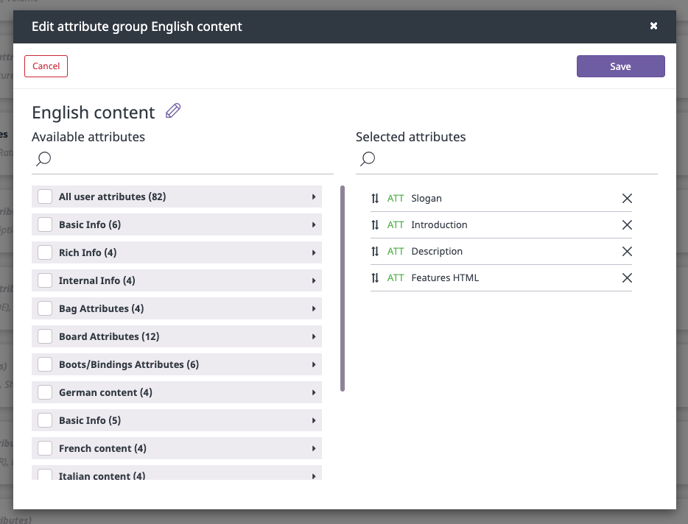 Here you can:
Edit the group name by clicking on the pencil icon to the right of the name.
Add attributes to this group from available attributes.
Delete attributes you have selected from this group.
Change the order of the attributes selected.
Clone an attribute group
| | |
| --- | --- |
| | Click on this icon to make a copy of an attribute group. |
💡 Cloning your group saves time when you need to create a new group similar to one you already have.
Delete an attribute group
| | |
| --- | --- |
| | Click on this icon to delete this group. |
⚠️ Be very careful when deleting an attribute group as this cannot be undone.
---
What's Next
If you have any questions just click on the chat box in the bottom-right corner and we'll be happy to answer them...
and please let us know 👇