By creating Product Attributes you define the types of information your products can hold. Attributes can be anything from a simple measurement number to longer pieces of marketing content.
The primary thing to keep in mind when creating attributes is what type of data the attributes will hold. This becomes important when being able to find and filter your products in the PIM and create output options for Channel and Catalog exports.

To learn more, have a look at this article on attribute types.
Continue reading here on how to create attributes, arrange them into groups, and how to edit, clone and delete them.
Create a new attribute
There are two ways to create new attributes, either from Settings or upon import. To learn more about creating attributes upon import click this link.
Create a new attribute from Settings
Navigate to Settings (1) in the top menu
Open Product attributes (2) in the left menu
Click the button CREATE ATTRIBUTE in the top right corner (3)

After clicking the '+ Create attribute' button, a window will appear which provides you the ability to create 13 types of attributes.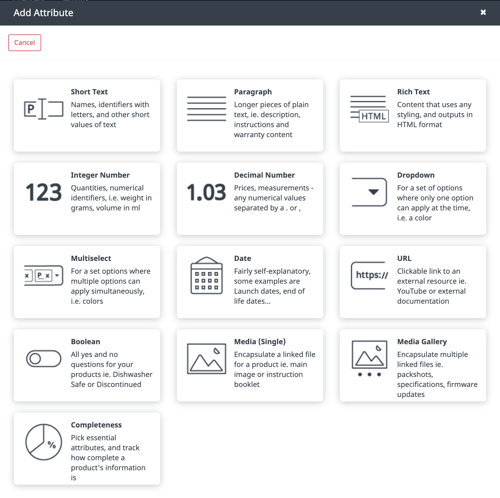 Naming attributes
When selecting an attribute type, a window appears that gives you the ability to give the attribute a name that correlates to what you will be using it for (1).

If you are creating multiple attributes, one after the other, you can activate the 'Create another' switch to create another attribute as soon as you have saved the previous one (2).
Finalize the creation by clicking the 'Save' button (3).

The window also contains a label. The label is an internal ID for the attribute which is used with API integrations, the label is auto-generated upon creation which is the reason why you can't edit that field, in other words; Don't worry about the label.
Attribute options field*
Some attributes contain another field called 'Options' (1).

This section is used to add further values to the attribute. In this example, it is used to assign multiple color values to the attribute. (2).

Write a color value: "Brown" (3), and click the '+ Add option' to add the value (4).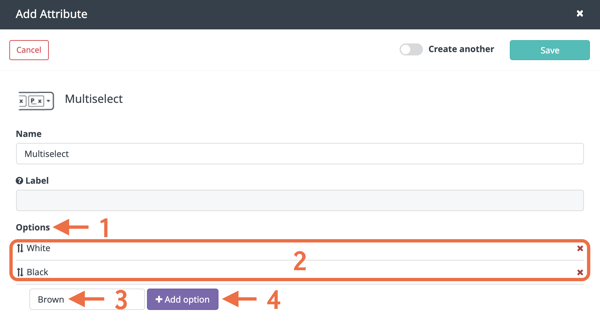 *When importing new products, these are created automatically so there is no need to add them before you import new options.
Arranging attributes in groups
In order to make it easier to work with your Product Attributes, it is possible to arrange them in groups for a clearer segmentation of the information. The common practice is to create groups based on departments and product segments.
To group your attributes,
Navigate to Settings (1) in the top navigation menu
Open Product attributes in the left menu (2)
Select the 'GROUPS' tab (3)
Click the '+ Create group' button in the top right corner to create a new group (4)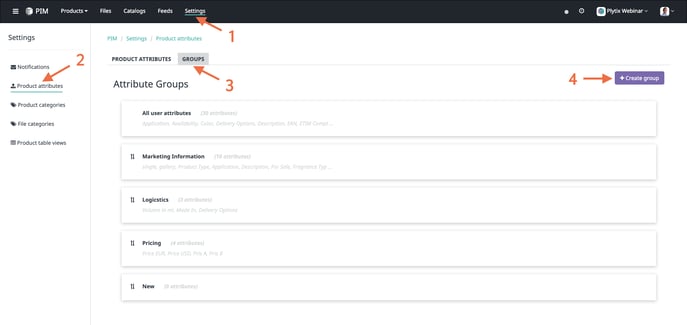 In the 'New attribute group' window, Give your group a name (1),
and press 'Next' t0 continue (2).

In the next window, you can start organizing which attributes belong to your new group.
On the left side, you have all 'Available attributes' (1)

On the right side column you have all 'Selected attributes' you have chosen for your group (2).

You can search for attributes or open the groups to find the attributes you are looking for.
Finalize by pressing the 'Save' button to keep your selection for the new attribute group (3).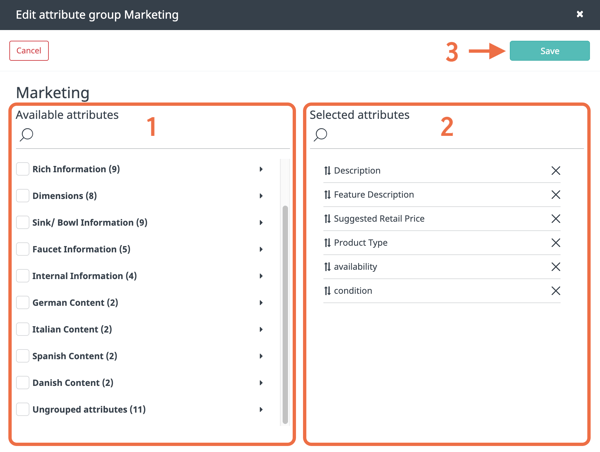 Editing and organizing attribute groups
Editing, cloning and deleting
To edit an attribute group, hover the group you wish to change (1).
An action menu will now appear. From here you can either Edit, Clone or Delete the group (2).

Drag and Drop
Click to drag & drop attribute groups up and down to set the order you want them to appear.
This has an effect on displaying attributes in features like the E-Catalogs autofill.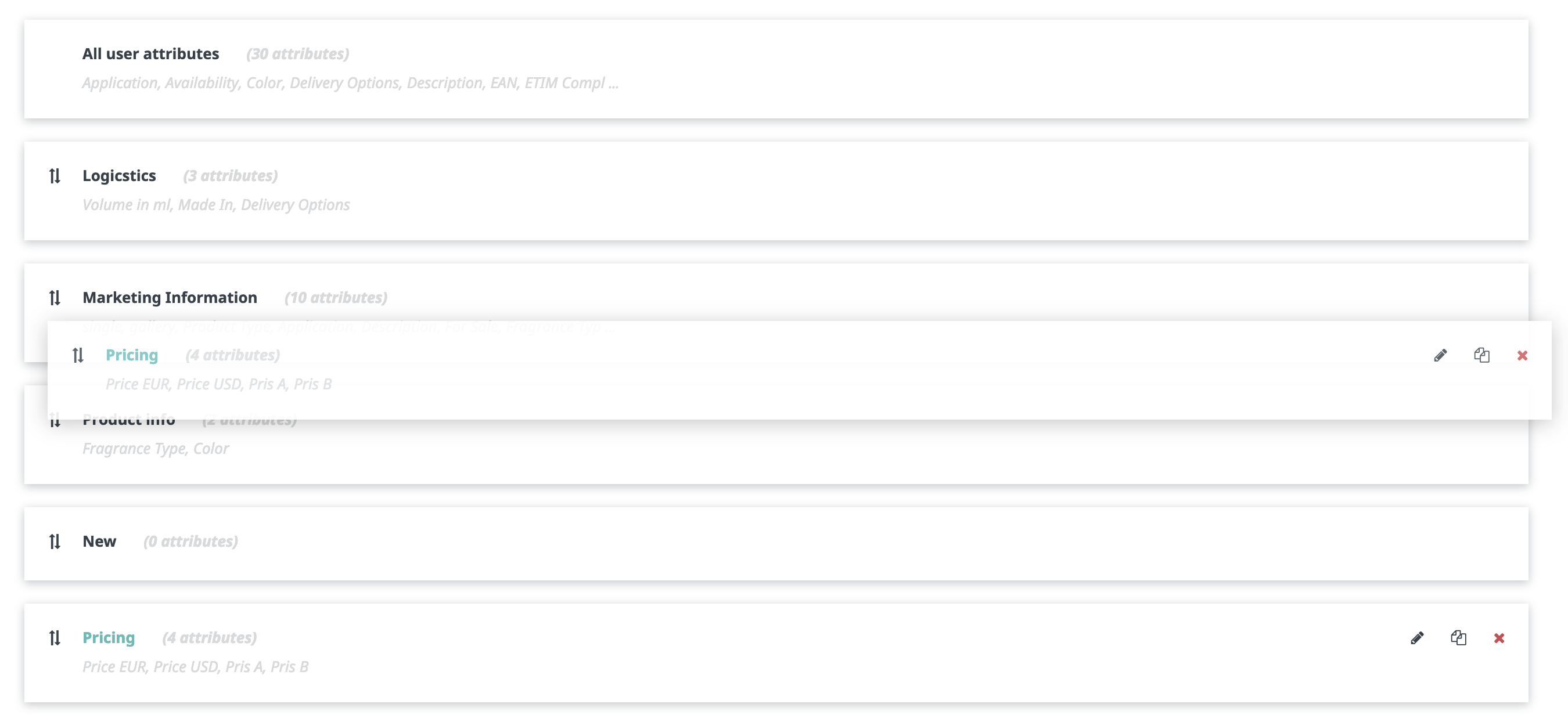 Deleting an attribute
To delete an attribute:
Navigate to 'Settings' (1)
From here, open 'Product attributes' (2)
Now select the attribute(s) you wish to delete (3)
Press the delete button (4) and confirm.

Attributes in use
As an account gains complexity, some attributes might be used many places and for many features. Therefore, you can access the 'Attribute Use' panel for each attribute.

Find it within 'Settings' (1).
Select 'Product attributes' (2).
Now hover over an attribute within the table (3), and a Globe icon will appear.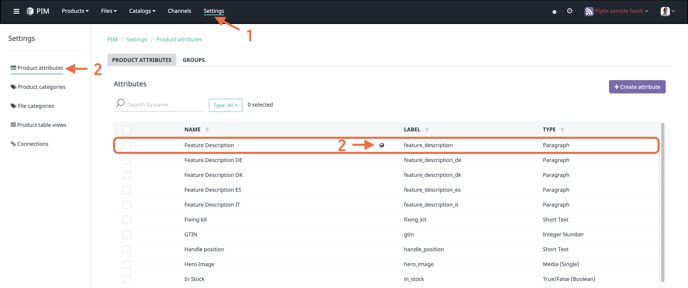 Click the Globe icon, to access the 'Attribute Use' panel.
You can now see where the attribute is actively being used.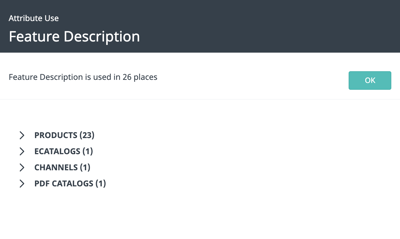 Click the dropdown arrows to see where the attribute is in use (1).
Click any of the products, catalogs or channels to go to their location within the PIM (2).