By creating Product Attributes you define the types of information your products can hold, Product Attributes can be everything from a simple measurement number, to longer pieces of marketing content.
The only thing you have to keep in mind when creating attributes is what type of data the attributes will hold. To learn more about what type of attributes to use in a given situation, please refer to this article on attribute types.
You can read more here about, how to create attributes, arrange them into groups, and how to edit, clone and delete them.
Manually create new attribute
To create a new attribute, navigate to Settings (1), open Product attributes (2) and click the button '+ Create attribute' in the top right corner (3).

After clicking the '+ Create attribute' button, a window will appear which provides you the ability to select any attribute type within PIM.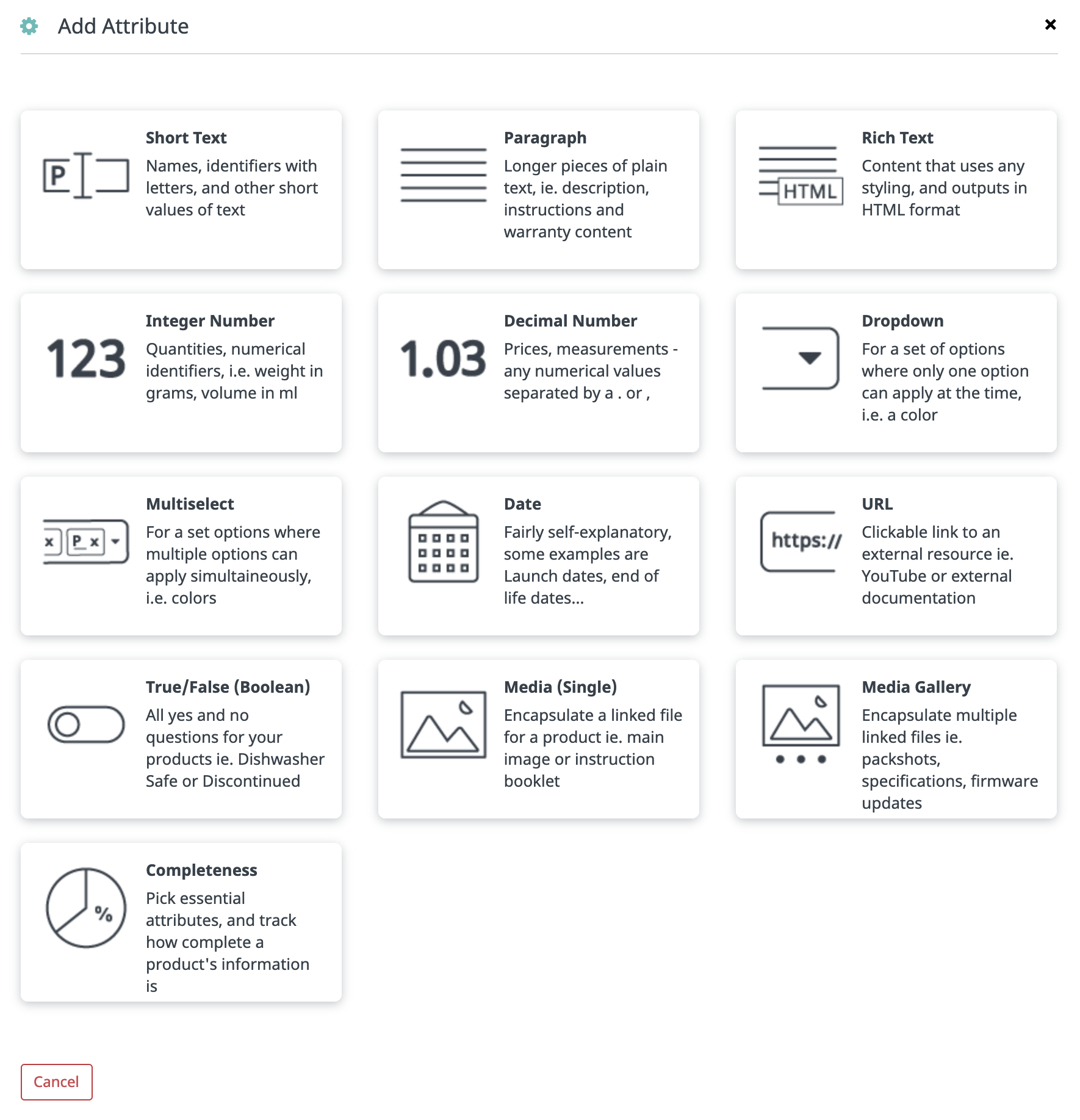 When selecting an attribute, the most common window that appears gives you the capability to give the attribute a name that correlates to what you will use it for (1). The window also contains a label. The label (2) is an internal ID for the attribute which is used with API integrations, the label is auto-generated upon creation which is the reason to why you can't edit that field, in other words; Don't worry about the label.
If you are creating multiple attributes, one after the other, you can activate the 'Create another' switch to create another attribute as soon as you have saved the previous one (3).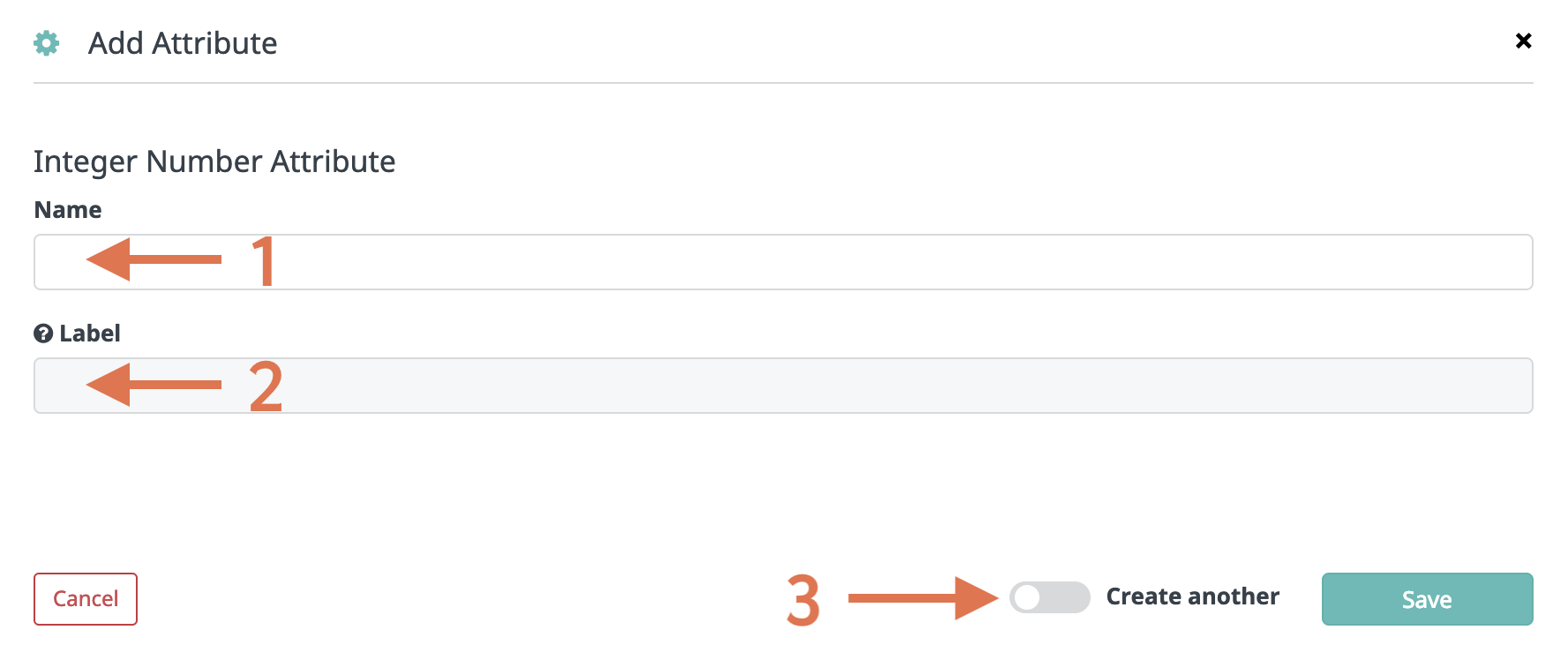 Some attributes contains another field called 'Options' when being created (1). This is for multiple option features, for when creating a 'multiselect attribute' for a products variety in e.g. multiple colors (2). Write one of the products color varieties = "black" (3), and press '+ Add option' to store it within the attribute (4).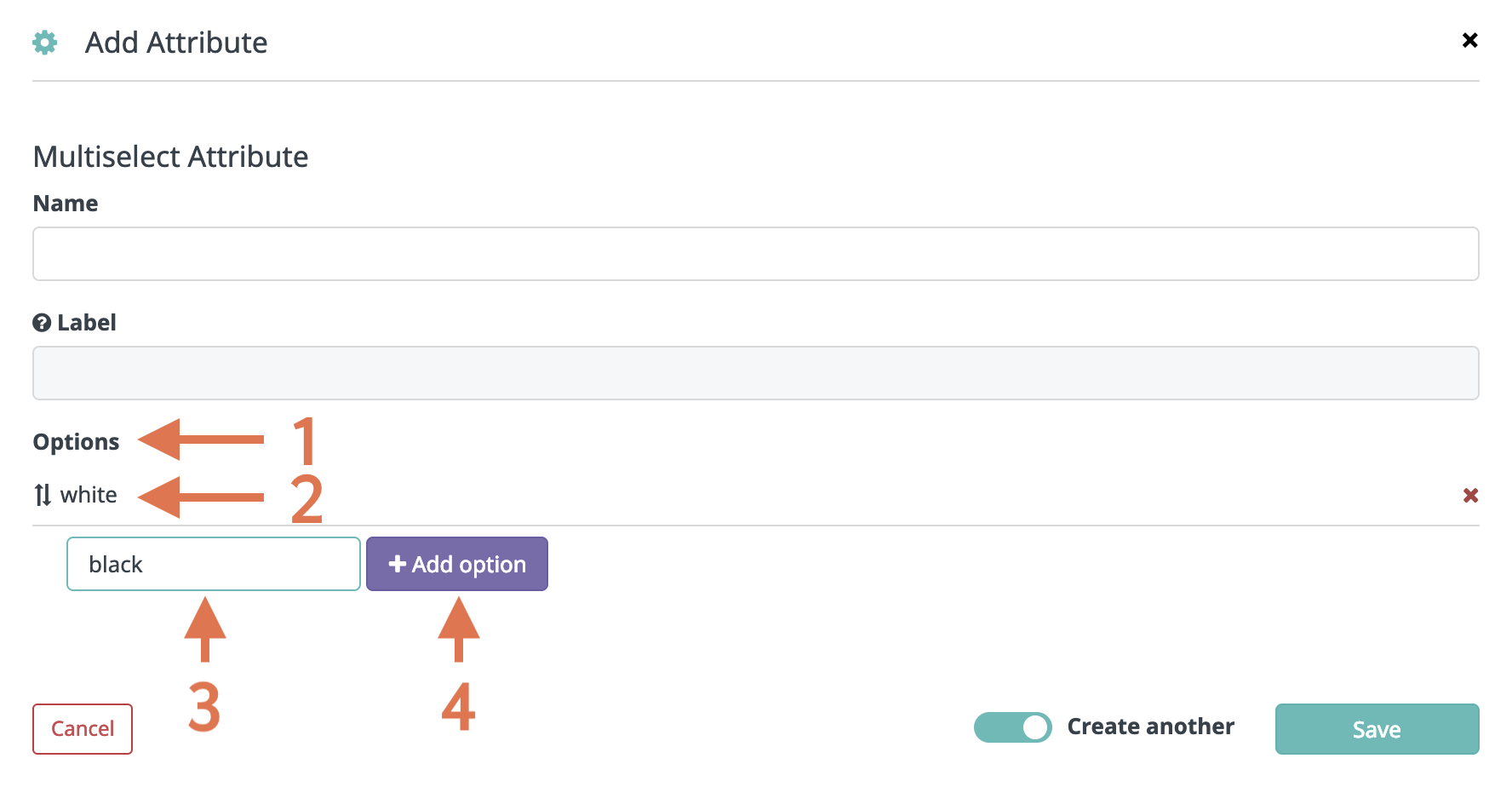 Arranging attributes in groups
In order to make it easier to work with your Product Attributes, it is possible to arrange them in groups for a clearer segmentation of the information. There are no rules for how to group up your attributes, or if you wanna connect an attribute to multiple attribute groups, but it's common to group the Product Attributes by department like 'Marketing', Logistics, Pricing etc. In case you're managing multiple product families you can also group your attributes by product family like: Guitars, Drums, Keyboards etc.
To group your attributes navigate to Settings (1), open Product attributes (2) and click the 'GROUPS' tab (3). Within the 'GROUPS' tab you can click the button '+ Create group' button in the top right corner (4) to create a new group.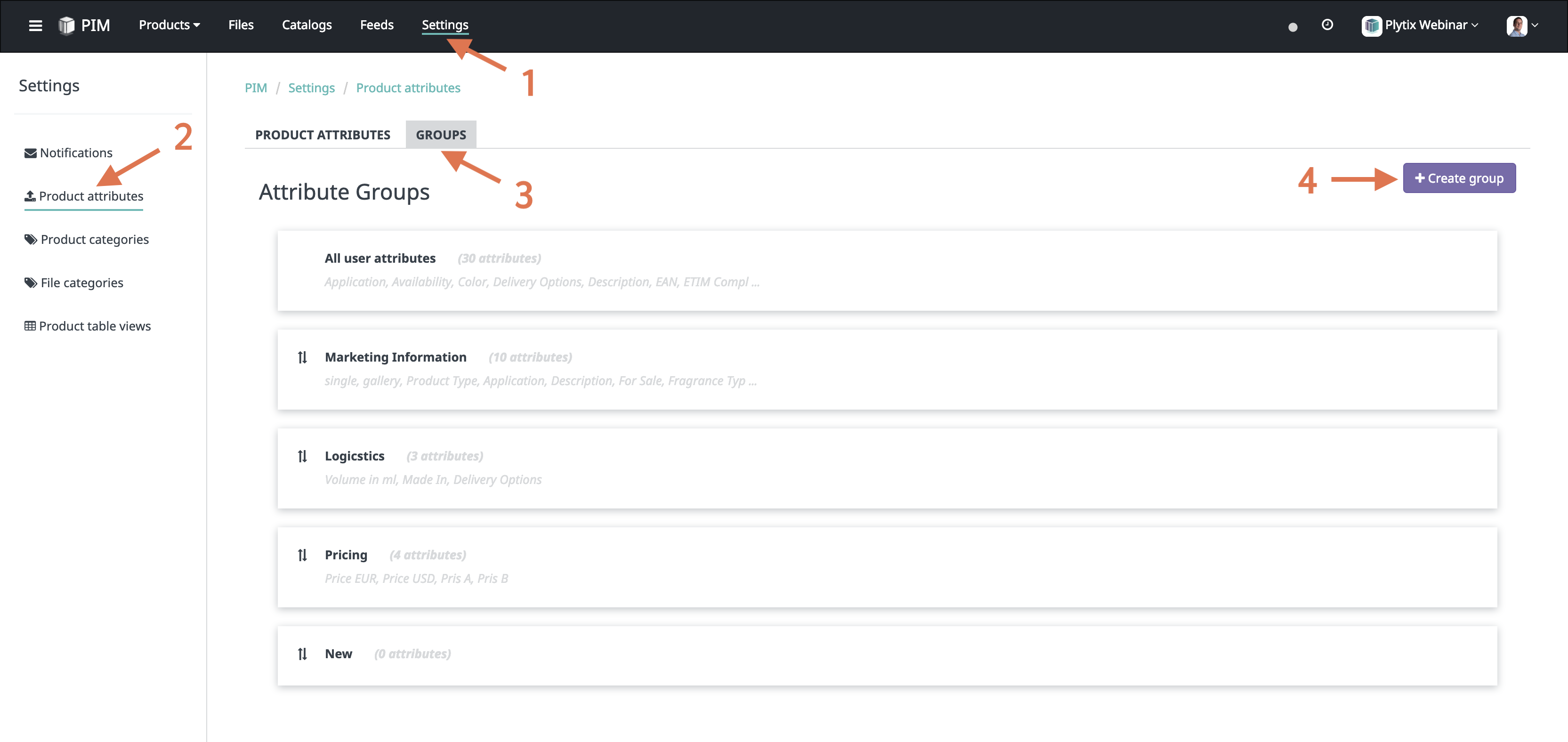 In the new window, you can give your new group a desired name (1), and press next (2).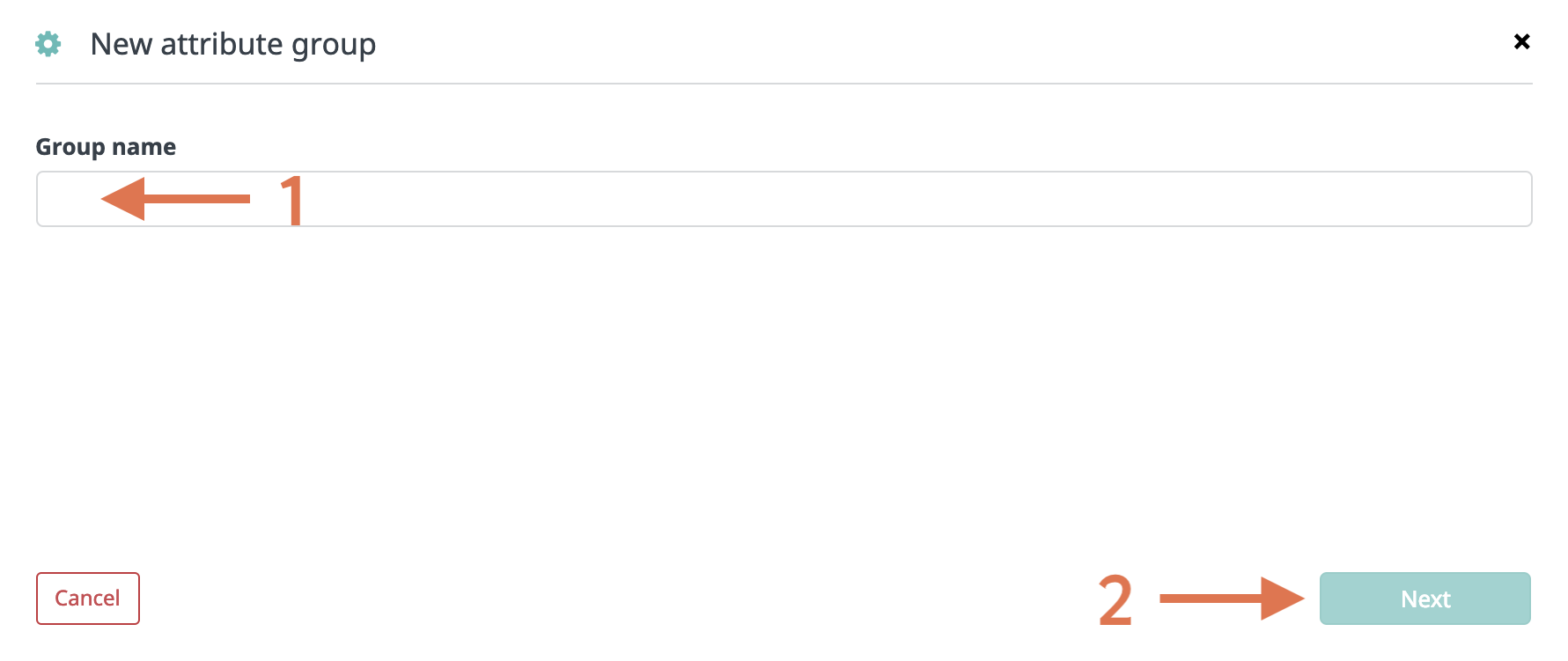 In the next window you can start organising which attributes belong to your new group. On the left side you have all 'Available attributes' you have created in one column (1), and on the right side column you have all 'Selected attributes' you have chosen for your new group (2). If you have a lot of attributes in either column you always have the option to search for an attribute to quickly make the changes you need (3). In the 'Available attributes' section (left column) you firstly have an overview of 'All user attributes' created on your account (4). Below you have an overview of all the attributes groups you have already created (5), and at the bottom you have a list of all the 'Ungrouped attributes' that might still need a group (6).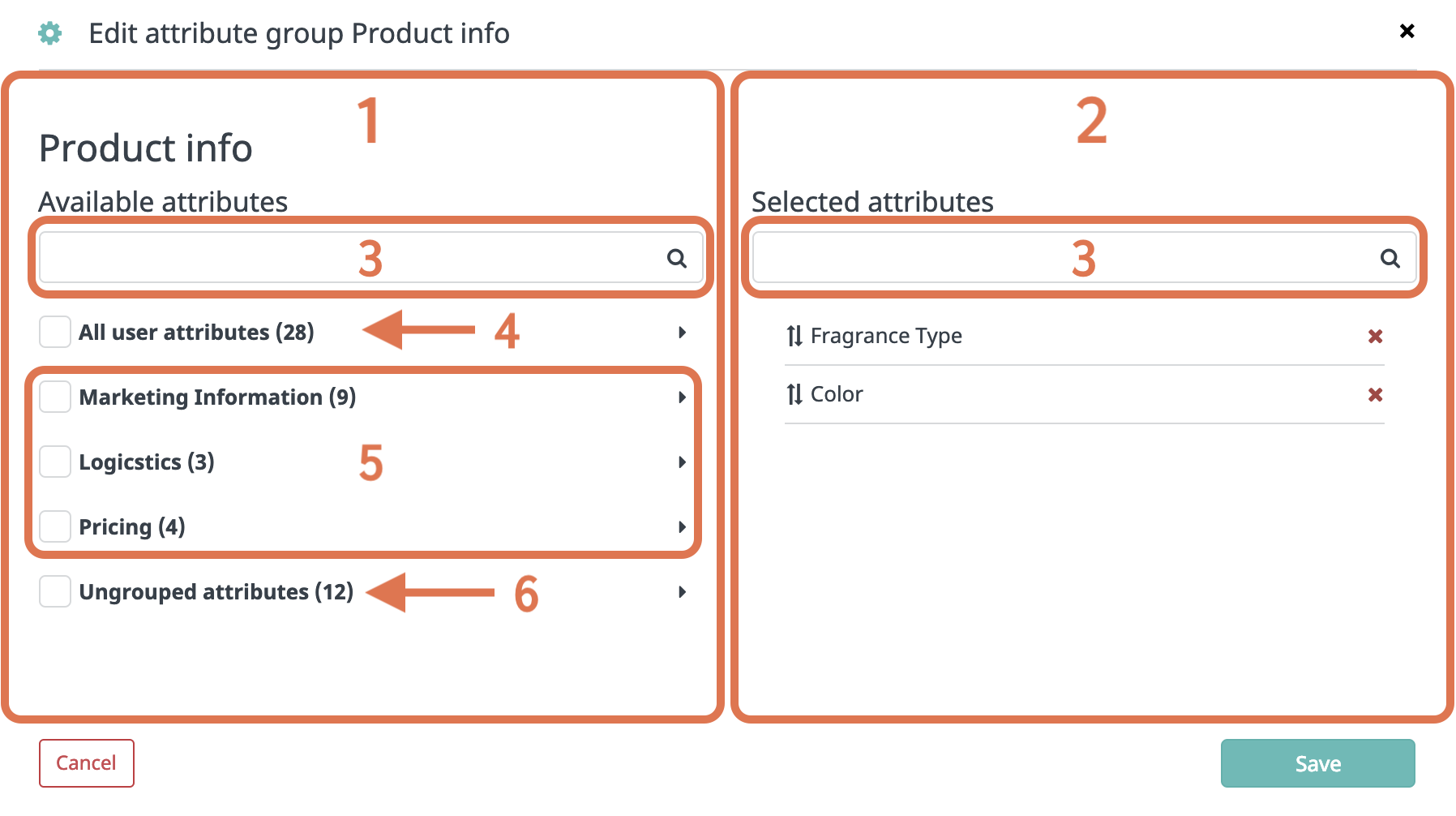 Editing and organizing attribute groups
Editing, cloning and deleting
To edit an attribute group, hover the group you wish to change (1), and an action menu will appear on the right hand side. From here you can either Edit, Clone or Delete the group (2).

Drag and Drop
Furthermore, you can also click and drag & drop attribute groups up and down to set the order you want them to appear in the system.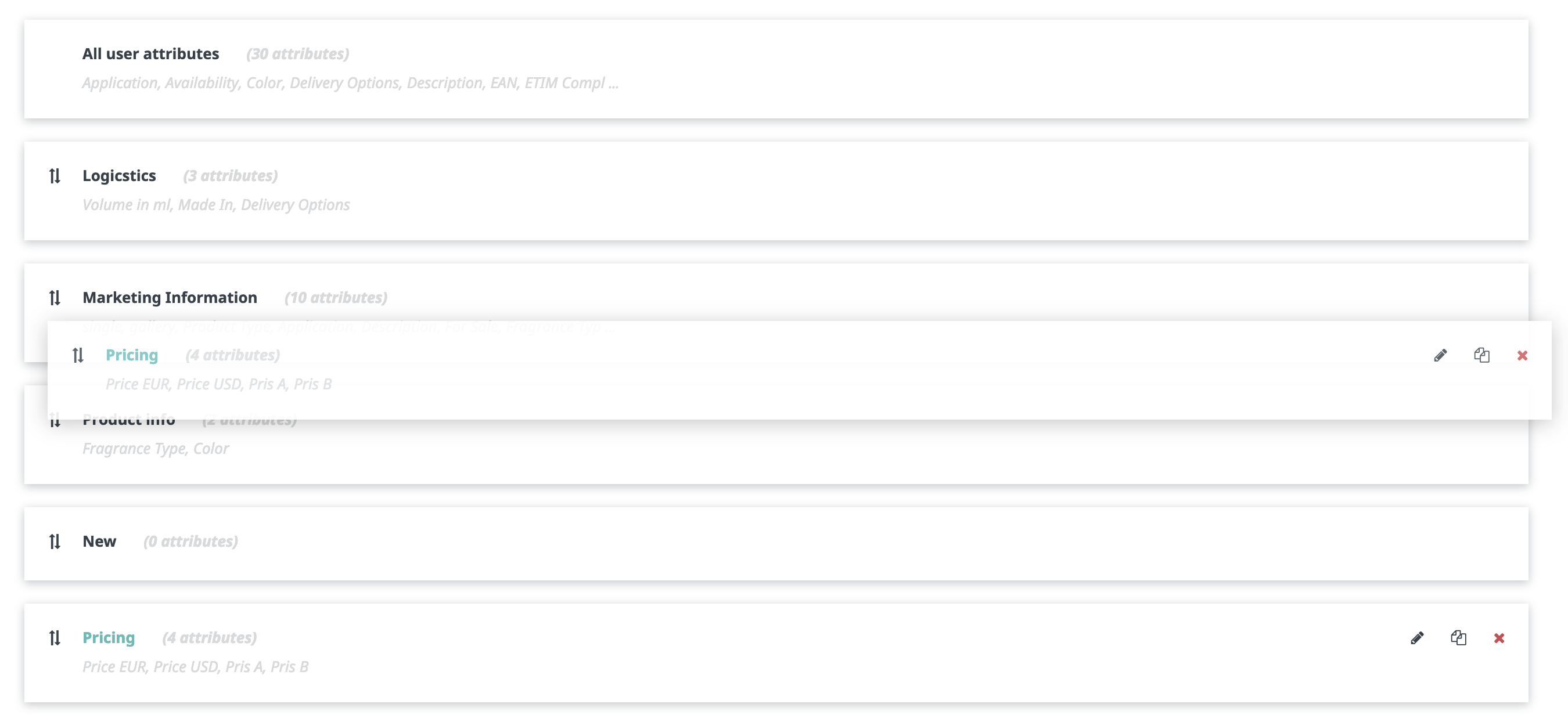 Delete an individual attribute
To delete an existing individual attribute, navigate to 'Settings' (1), open 'Product attributes' (2). Now select the attribute(s) you wish to delete (3) and press the delete button (4) and confirm.