How to navigate the individual product pages where you can see all attributes and assets for a given product
You can get into a the product details page from the table in the "All products" page by clicking on the SKU of the product you want to view. This is where you can see all the information that makes up an individual product. This article will explain the different sections of the product details page.
---
Product details header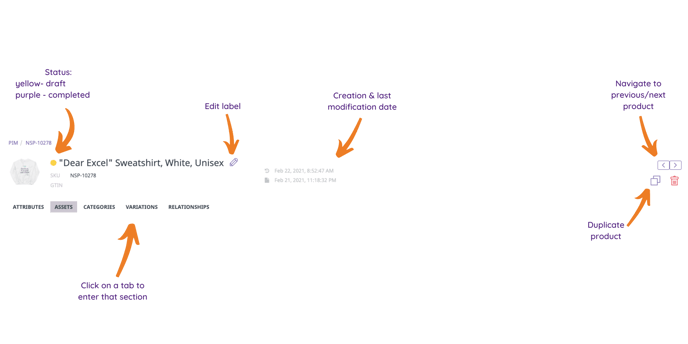 The product details header is where you can find all the system attributes of your product, navigate to the previous/next product, and duplicate or delete the current product you are seeing.
Product thumbnail
Status of the product
Product label
Product SKU
Product GTIN
When the product was last modified
When the product was created
Navigation menus for previous/next product
Duplicate product
Delete product
Below the header, you will see different tabs which will we will explain further in the following sections.
---
Attributes tab
When you enter a product's detail page, by default, you will also enter the "Attributes" tab. This is where you can see and edit all attribute values for a specific product.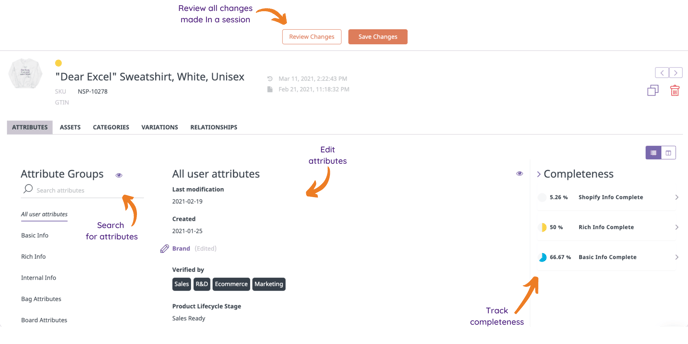 💡 For information on how to edit attributes from the attribute tab check out the product detail section of the article: Editing product attributes.
---
Assets tab
In this tab you can see and manage files connected to the product.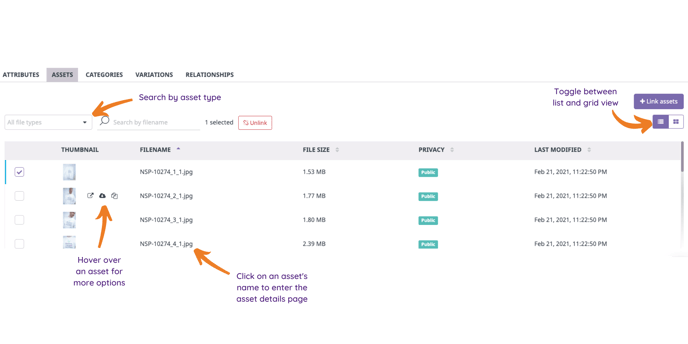 You can:
---
Categories tab
In this tab you can see if the category is assigned to any categories and add or remove categories to the product.

---
Variations tab
Here you can see if the product has any variations.

You can also
---
Relationships tab
Relationships let you recommend similar products, upsell, and create sets or packs.

In this section you can
---
What's Next?
If you have any questions just click on the chat box in the bottom-right corner and we'll be happy to answer them...
and please let us know 👇