Bulk edit attributes, categories, or relationships across multiple products
There are two ways to bulk edit your product information:
Using the Product Overview table
Importing a spreadsheet
Using a Spreadsheet
To bulk edit products via import using a spreadsheet, all you need to do is follow the import instructions here.
From the Product Overview Table
To bulk edit product from the Product Overview table follow these instructions:
Navigate to the 'All products' screen by clicking PRODUCTS in the top navigation menu
Select the products you want to edit, using filters may help you find the right selection faster
When you have your products selected, click the EDIT button that appears above the table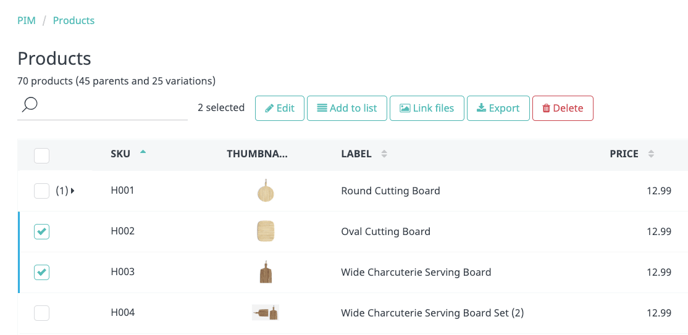 From here a window will appear that allows you to choose whether to edit Attributes, Categories, or Relationships.
Editing Attributes
Attributes are selected by default. To edit your attributes:
Choose your attribute from the dropdown
Input new value
Choose another attribute if necessary by clicking EDIT OTHER ATTRIBUTE and repeat
When you are ready, click SAVE

Do not try to edit categories or relationships at the same time.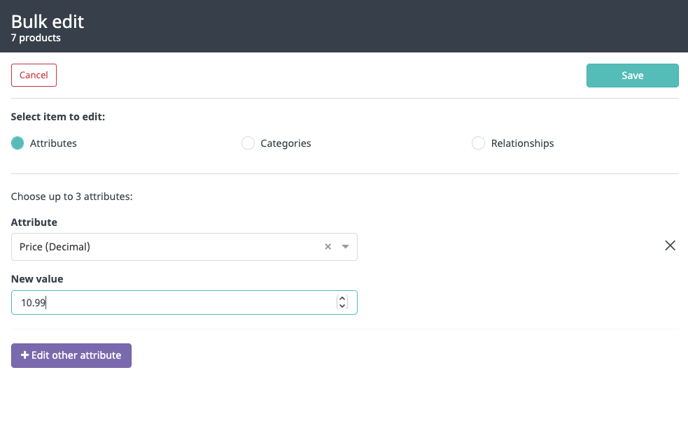 Editing Categories
Choose the CATEGORIES option at the top
Select the action you want to perform: ADD, REPLACE or REMOVE
Select the categories you want to ADD, REPLACE, or REMOVE
Then click SAVE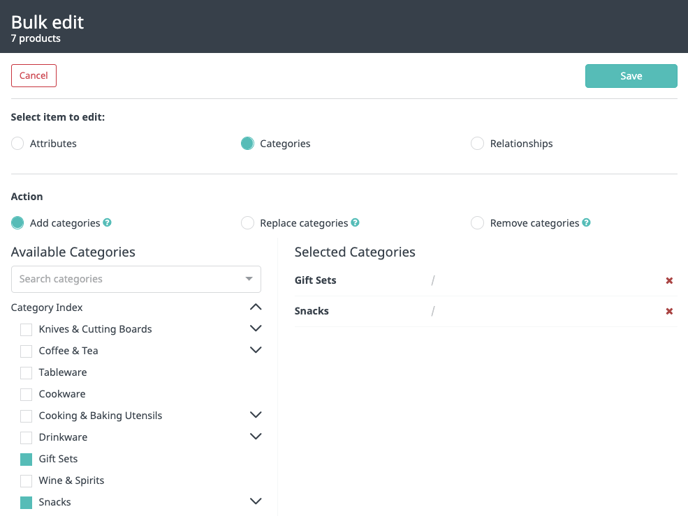 Editing Relationships
Choose the RELATIONSHIPS option at the top
Select the action you want to perform: ADD or REMOVE
Select the relationship and association you would like to edit
If you want to add quantity here, you can also do this
Selecting multiple products for editing
When selecting products, you can target them individually by clicking the box connected to the individual product in their row (1).
You can also target all products on the page by clicking the box in the top of the 'Products' section (2). This only selects all products on the given page you are at (3)(4).
To select all products, press the 'Select all # products' button, and this will select all products listed (5).