How to configure the output format of a CSV or Excel feed.
Define how to format the output of your channel from the "Format" tab of the channel details page. Define the order attribute columns are listed, which separator to use for multiple values, and whether to include attribute values for product parents, variations, or both.
💡 Refer to an example feed, if available, of where your channel is being sent to for guidance on how to order columns.
---
Product Listing
Here you can decide in which order your products should be listed. Define if you want parents or variations to come first.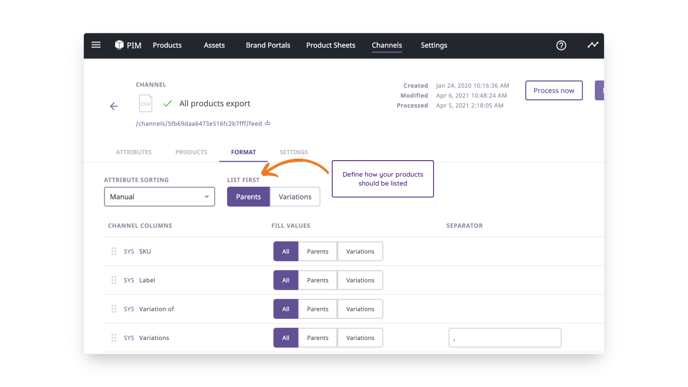 ---
Attribute sorting
The first thing to decide on is how to sort your attribute columns.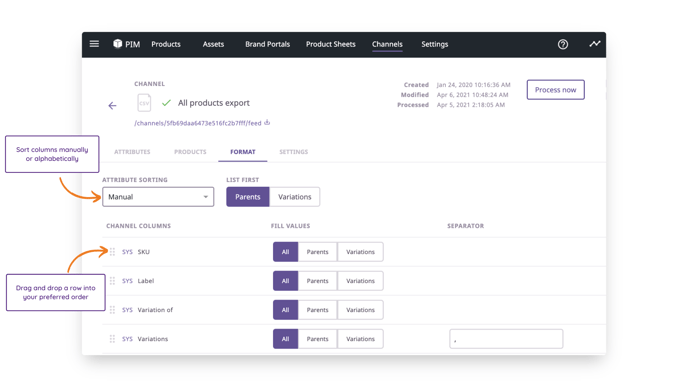 From the "Attribute sorting" dropdown, you can select from:
Manual
Alphabetically (A-Z)
Alphabetically (Z-A)
If sorting columns manually, you can drag and drop columns in the order you prefer. If sorting alphabetically, note that they will be sorted alphabetically based on the "output label" defined in the "Attributes" tab of the channel.
---
Attribute Fill Values
You can also choose if you want to include data only for parent products, product variations, or both on an attribute level. You can also define the value separator for attributes that have more than one value, for example categories.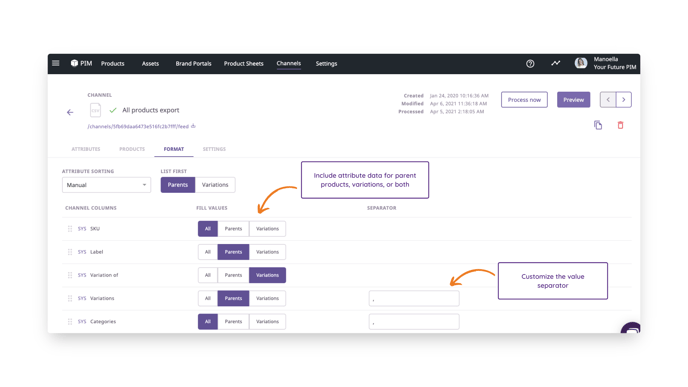 ---
What's next?
If you have any questions just click on the chat box in the bottom-right corner and we'll be happy to answer them...
and please let us know 👇