How to design a Brand Portal using Plytix
Designing a Brand Portal in Plytix is very easy. No need to download any software or call upon a professional designer to help you out. This article will walk you through all you can do using the Brand Portal designer in Plytix. First things first, you need to create your Brand Portal.
---
Overview
To enter the Brand Portal designer:
Click on "Brand Portals" in the top navigation menu
Click on the name of the portal you want to design (or click on "Add Brand Portal" to create a new one). This will take you to that Brand Portal's details page
From here click on "Designer" found on the right
When you enter the designer you will see the following sections on the left menu: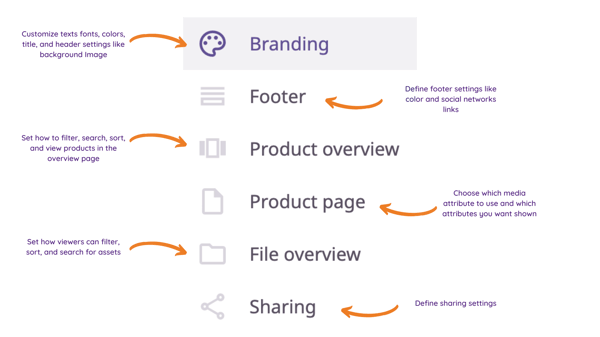 ---
Branding
The Branding tab is where you'll define settings to make your portal match the rest of you brand.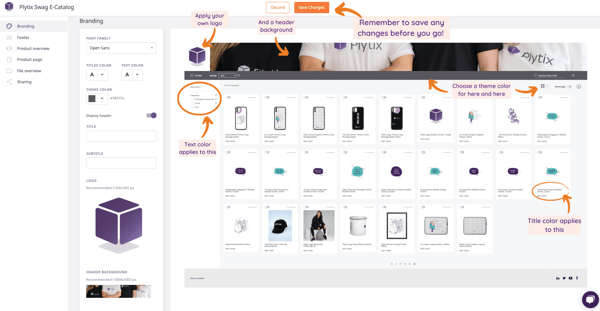 Fonts and colors

Here you can select from our array of fonts and choose colors to match your brand.
Title color This will apply to the title of each product (the text below the thumbnail).
Text color This will apply to other text like the side menu and featured attributes¹.
Theme color This applies to the top banner and some icons.
¹more on featured attributes in the product overview section
Header
The header will sit above the top banner.
Display header - This can be toggled to show or hide your header. By turning this off, title, subtitle, logo and header background will not be displayed on your Brand Portal.
Title - If added, it will sit in the top left of the header section.
Subtitle - This will sit right below the title.
Logo - This will appear in the top left of the header section pushing the header background to the right of it. This logo will also be applied to any downloads.
Header Background - This is the image that will appear in the header section on top of your Brand Portal.


💡 Header display is often turned off when embedding your portal into your own website

To upload images to either your Logo or your Header Background you have two options:
You can upload a new asset from your local device
You can use an existing asset that is already stored in the PIM
⚠️ For the best looking outcome we recommend staying within the recommended image size.
---
Footer
In this section you can adjust your footer settings.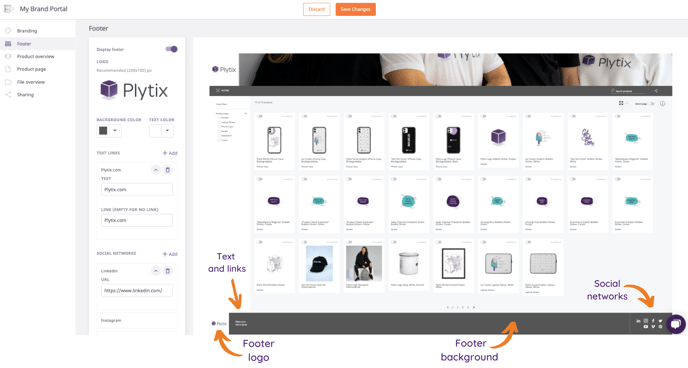 Display footer - Toggle the switch to make your footer visible or not.
Logo - Add your logo or another image.
Background color - This will be the color of the bottom banner.
Text color - This will apply to any text line added.
Text lines - Add up to three text lines, which can include hyperlinks, to your footer section.
Social networks - Connect your social networks to your Brand Portal.
---
Product overview
From here you can set how users filter, sort, search for product in your Brand Portal, as well as how they see them in the overview.
Filters
Click on the settings icon next to filters to enter the filter settings. You can also turn filters on/off from here.
ℹ️ Turning filters off means visitors will not be able to filter which products they see. This can make it difficult for them to find a specific set of products within your Brand Portal.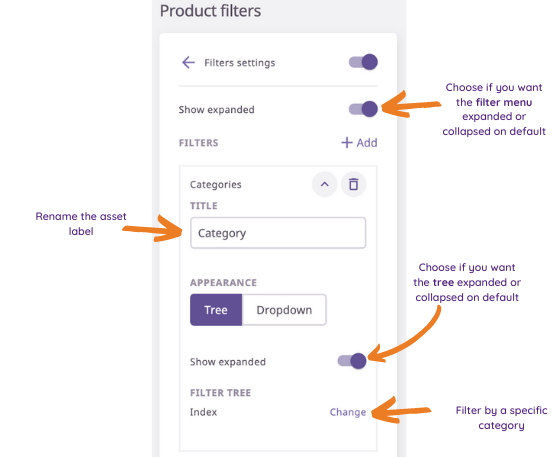 Expand/collapse the filters menu - This means you can select if the filters should be shown expanded or collapsed when visitors enter the Brand Portal. Viewers of your portal can always expand/collapse them manually.
Choose filter attributes. You can choose different attributes to add to your filter menu. For example, filter by product type, categories, size, color, etc.
💡 Drag and drop the filters up and down to arrange the order in which they become displayed.
Click on an attribute to:
Rename your filter title for output
Choose the appearance of your attribute: tree, dropdown, list (see below: options vary based on attribute type).
| | | |
| --- | --- | --- |
| Filter type | Explanation | Example |
| Dropdown | The asset options will be shown in a dropdown and viewers can select one option to search by. | |
| List** | Asset options will be shown in a multi-select list. | |
| Tree | In a tree, you can expand a group to show more options. This also allows for multiple selections. | |
ℹ️ Note that list filters work with "OR" logic. This means that when selecting more than one option in a list, the filter will return products that fit any of the selected critera, not products that fit all selected criteria.
For example: If filtering for products that are A) waterproof and B) solar-powered, the results may contain products that fit both criteria, but will also contain products that are either waterproof OR solar-powered.
Sorting options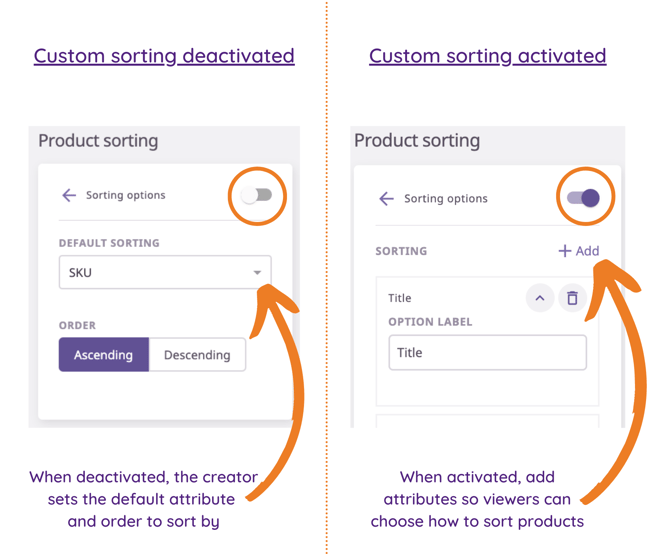 Adding sorting options allows viewers to choose in which order to view the products. For example, by ascending or descending price, name, weight, etc. This will be added to the top banner of your portal.

Search bar
If you choose to activate the search bar, you can select up to 2 attributes visitors can search your portal by (e.g. name and product ID).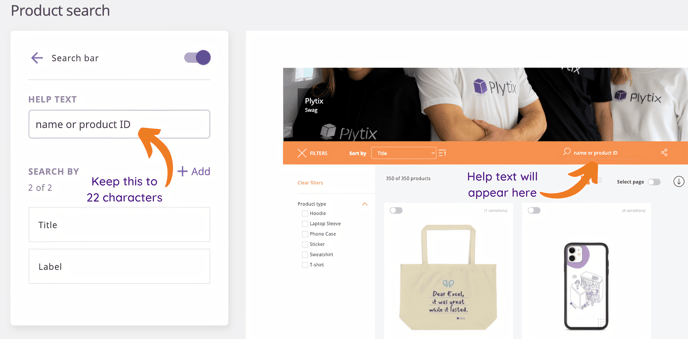 ⚠️ Keep "help text" to 22 characters to ensure it's not cut off.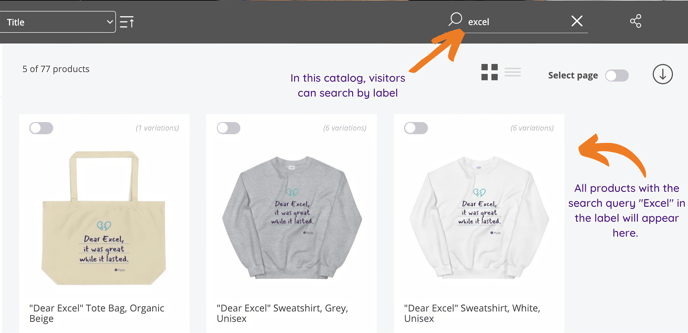 Product setup
Group variations with parent - This will define how visitors see products with variations: grouped with the parent product or displayed separately.

Grid size - Select the size of products in grid view.
⚠️ Grid can affect how many products visitors see per line.
Product title - Choose which attribute to use for your product title (the text that is shown below the product thumbnail).
ℹ️ Product title is limited to short-text attributes.
Product thumbnail - Here you can select what media attribute you want to use as the featured product image. Let the system take the first image of the product gallery and make it your overview thumbnail, or select a specific image attribute to use.
Featured attributes - You can choose up to three additional attributes to include beneath the thumbnail of each product.
---
Product page
The product page is what visitors see when they click on a product. In this sections you define which attributes to show, and how they should be organized. From here you can also choose which image attribute to use for your product gallery.
Autofill activated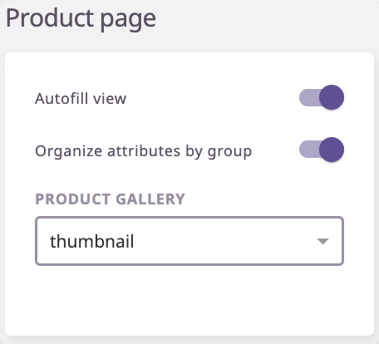 When autofill is switched on, the system will show all attributes loaded in the Brand Portal settings. You can then choose if you want to organize these attributes by attribute groups or not. When organizing attributes by group, the attributes will be in the same order as shown in the attribute groups settings. If you choose to not organize attributes by group, attributes will be displayed in alphabetical order of the output label.
⚠️ The ordering of attributes is case sensitive meaning all attributes that are capitalized will show first.
Autofill deactivated
When autofill is switched off, you can customize which attributes to show, and drag and drop them in the order you want. Attributes are divided into featured attributes and components.
Featured attributes are displayed in the product header, next to the gallery.


⚠️ HTML type attributes cannot be displayed in the featured attributes area.

Components are sections added below the product header. You can name these sections however you want and they can include attributes, galleries, variations, and relationships. Each component has its own additional settings, and you can drag and drop these components in whatever order you'd like.


Attributes component

Can be shown in 2 columns or in table
Add attributes and click and drag them to customize the order shown

Gallery component

Display in a grid or list
Define how to display the asset (as a thumbnail, filename, or both)
Select the attribute

You will need to add an asset component for each asset attribute you want to include in your Brand Portal.
Variations component

Choose a product title attribute to identify the variant product
Select the thumbnail attribute for the variations
Select up to 3 attributes to show alongside the product
Choose how to display the products: in a grid or list

Relationships component

Select the relationship attribute (This cannot be changed later)
Choose a product title attribute
Select which attribute to use as a thumbnail
Select up to 3 attributes to show alongside the product
Choose how to display the products: in a grid or list
---
File overview
For assets to appear here, you must first add them to the Assets tab of the Brand Portal settings. Like in the product overview section of the designer, the file overview section gives you the option to allow visitors to filter, sort, and search through your assets. This is also where you can select the default grid size.
Filters
Turning on filters allows visitors to filter through assets. This can help them find what they are looking for, faster. To do this, add the "category" filter attribute. Click on it to expand the settings options.
Now you can
Rename the label

Define how to display it (as a tree, or dropdown), and

Set which level to begin the filter tree from.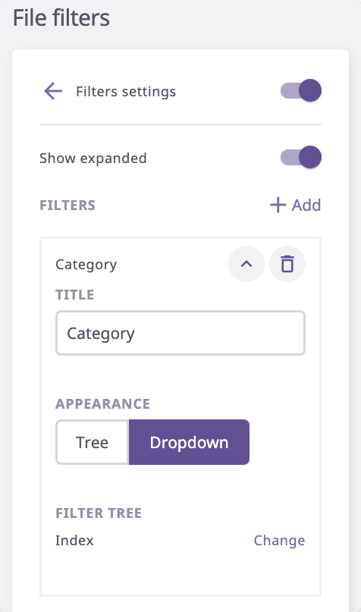 Sorting
In the sorting section you can decide how your assets should be sorted.
If sorting is switched "off", you can set the default way to sort assets.
Choose if you want to sort by filename, last modification date, or created date
Choose if you want it to be in ascending or descending order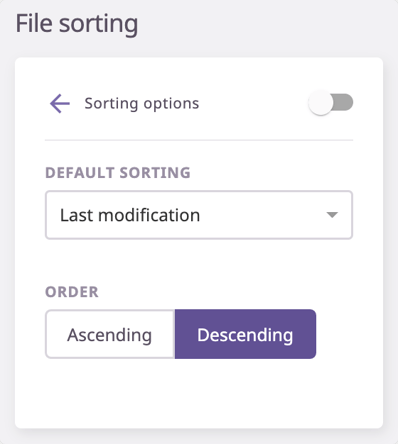 If sorting is switched "on" it means visitors can choose how they want to sort assets.
You can select which attribute options to include (created date, filename, last modification date)
You can rename the label (in the example below we've renamed "created" date to "date added"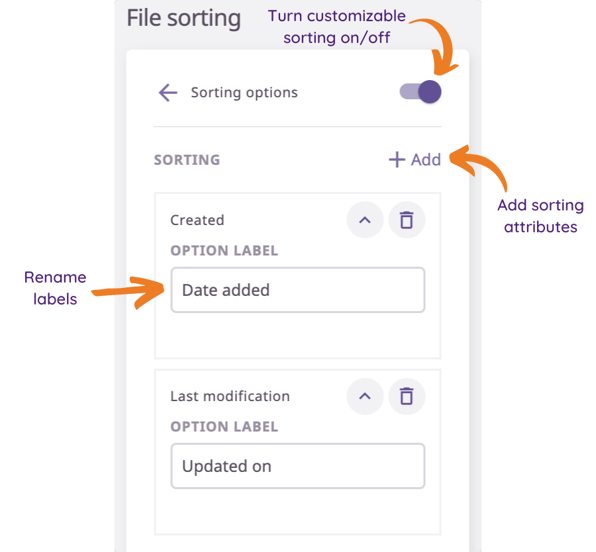 Search bar
Naturally, turning the search bar on gives visitors the option to search for a specific asset or groups of asset by its name. To do this, add the attribute "filename".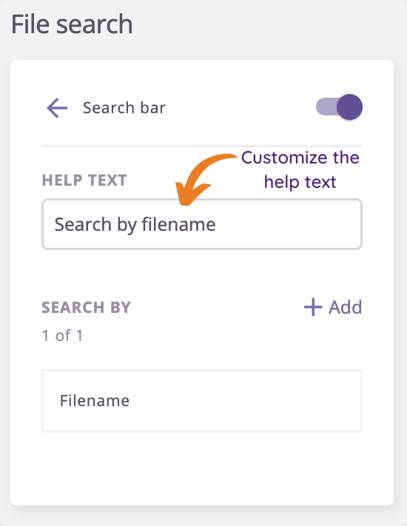 ---
Sharing
You can also enable direct sharing of your Brand Portal. By enabling this, visitors will be able to share the portal directly to Facebook and Twitter. Set a thumbnail and descriptions that will appear when someone shares your portal.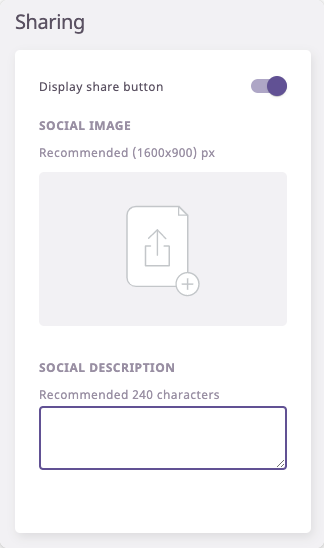 ---
What now?
If you have any questions just click on the chat box in the bottom-right corner and we'll be happy to answer them...
and please let us know 👇