Learn about the standard Plytix attributes
In this article, we will go over each of the 12 System Attributes including what type of attribute they are and how you can use them.


*Skip to any section in this article by clicking on the links above
---
What are System Attributes?
System attributes are attributes that are by default included in Plytix. As you can see below, System Attributes are easily identified by the purple "SYS" before the attribute name.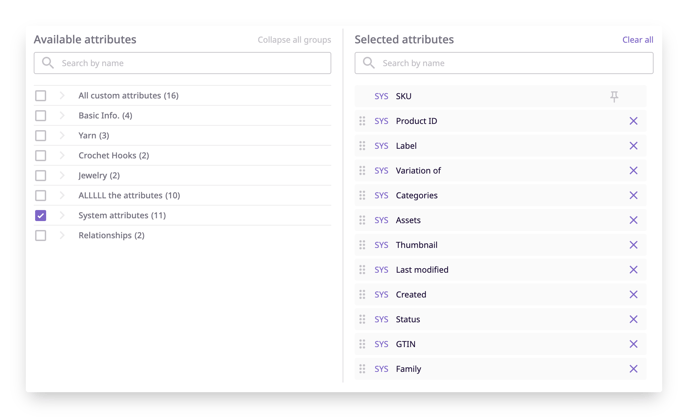 ---
SKU
This is the unique identifier of all your products and is used as such for imports, exports, and lookups. It is the only field that is required for all products in the PIM.
Type: Short Text
⚠️ The SKU must be unique to a product (no two products can have the same SKU).
⚠️ SKUs are case sensitive.
⚠️ SKUs can have a maximum of 100 characters.
💡 If you ever need to filter out a list of multiple SKUs you can apply a filter using the "SKU" attribute and the operator "contains any of." Type or paste the SKUs you're searching for up to 100 at a time.
---
Label
This is a short-text identifier for your products. This shows in the individual product pages.
Type: Short Text
💡 A Label makes it easier to identify your products in places like our import logs.
💡Make your Label include important keywords to help you find items faster when searching in Plytix
---
Variation of
When you input values in this attribute, it will automatically identify the product as a child or variation of another product. The attribute can only contain one SKU which corresponds to the parent product.
Type: A special type of short text attribute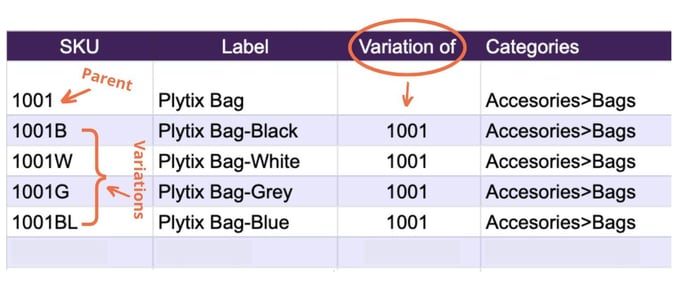 As you can see in this image, the product with SKU 1001B is a variation of the product with SKU 1001.
By inserting 1001 into the "Variation of" attribute you are telling the system 2 things:
1. Product 1001B is a variation, or child product.
2. Product 1001 is the parent product of this variation.
ℹ️ Variations cannot have multiple parents. Therefore, the the "Variation of" attribute can only contain ONE SKU.
---
GTIN
This is a unique identifier for your Global Trade Number. This can be an EAN, UPC, JAN...etc.
Type: External validation
⚠️ The GTIN must also be unique to each product.
⚠️ This attribute will ONLY accept valid GTIN formats between 8 and 14 characters
---
Thumbnail
This is the "featured image" that will appear around the Plytix platform as the visual identifier of your product. You can create other Media (Single) attributes in Settings.
Type: Media Single


ℹ️ This attribute allows for only one output (image).
---
Categories
This attribute creates category trees. You can assign your product to many categories at a time and categories can be up to 6 levels deep. Learn how to create categories here.
Type: A hierarchical multi-select attribute
💡 Categories are a great way to organize your products in Brand Portals.
---
Assets
This attribute lists ALL the files (assets) you have linked to a particular product. It is the only attribute of its kind.
Type: Media Summary
ℹ️ When exporting with channels or creating brand portals, it is best practice to select Media Single or Media Gallery attributes to ensure the right files are shown.
ℹ️ The assets attribute cannot be matched during import, but assets that are linked to a product will automatically become part of the assets attribute.
---
Last Modification
This attribute shows the last time a product was edited.
Type: Date
ℹ️ This date will be updated automatically anytime a product is edited. It cannot be changed or deleted.
---
Created
This attribute shows the date of when your product was created.
Type: Date
ℹ️ This is automatically added by the system and cannot be changed or deleted.
---
Status
This attribute lets the user set the product as "Complete," "Draft," or "Archived."
Type: Dropdown
---
Family
This attribute allows you to assign products to a group of similar products that all contain the same attributes.
Type: Dropdown
ℹ️ Products can only be assigned to one family. Attributes that are not included in a family will still be displayed on a product that has them, but they cannot be edited.
---
Product ID
This attribute is a string of alphanumeric characters that is autogenerated when any new product is created in your account. It is for internal use by Plytix to identify your products.
Type: Short Text
ℹ️ This attribute can be exported, but it cannot be matched during import or viewed/edited within Plytix.
---
What's next?


If you have any questions just click on the chat box in the bottom-right corner and we'll be happy to answer them...



and please let us know 👇