Find and edit your products faster by using product filters
Product Filters are found on the left side of the Product Overview.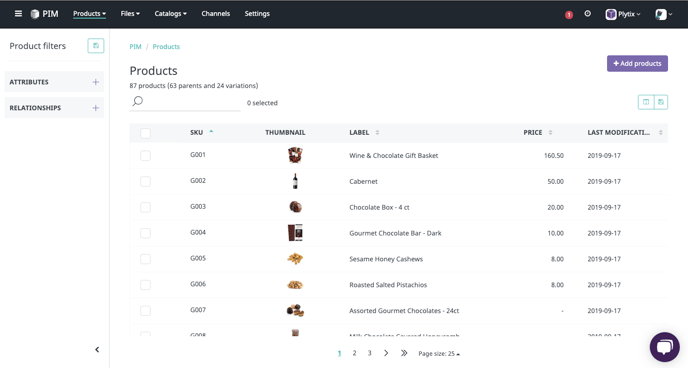 There are two filter types: Attributes and Relationships. These can be used together to narrow your selection.
Attribute Filters
To use attribute filters:
Click on the ATTRIBUTES section
Then search for or select the attribute you would like to filter on


Then choose the condition you would like to filter on. Each attribute type has a specific set of conditions that are compatible with each type. To learn what types of conditions there are for every attribute type, see this article on Attribute Types.


Then click APPLY FILTER
Once you apply the filter, your Product Overview table will show you the results of your filter
If you still need to narrow, you can add filters on top of this one by clicking AND or OR and follow the same process


Relationship Filters
To use relationship filters:
Click on the RELATIONSHIPS section
Then search for or select the relationship you would like to filter on
Below that you will need to choose the Association Filter
Then the condition to filter on


Underneath you will see SKUs: Any. Click on this to select a set of SKUs you want to narrow in on. In this example, if I want to see what Gift Baskets a specific SKU is included in, I could do so.
Click APPLY FILTER
Relationships only allow one filter at a time. At this time, you cannot filter on more than one relationship.
Saving your filters
You can also save your filters to a smart list, so you can reload your filtering conditions another time. Check out our article on Smart and Static lists.
Do this by:
Clicking the SAVE icon at the top of the filters


Select SAVE FILTERS TO SMART LIST
Then you will give this Smart List a name
Load it anytime by clicking the LOAD FILTERS FROM LIST
You can also access these lists under Products > Lists at anytime