Learn how to use Plytix as a remote collaboration tool
Creating a set of Key Attributes
Setting up a "Internal Info" Attribute Group
Understanding how to use those attributes in Smart Lists
Supporting this setup with Team Role
*Skip to any section in this article by clicking on the links above
💡 Set up a quick training!
Book some time with your Customer Success Manager and work together to come up with the best setup for your company's remote collaboration.
---
These key attributes help set up the foundation for your collaboration. They will allow you to create filters and smart lists that will help you work together.
Here we will just show you the basics for key attributes, since we know these will vary from business to business. So, start with these*:
Product Owner: This will establish who the owner of the product is

We suggest setting this up with a Dropdown attribute type so that only one person at a time can be selected. If you have more than 1 person owning a product at a time/stage, use a Multi-select attribute.
Make the options of this attribute your team members' names. This will clearly show who is responsible for this product at any given time.

Product Lifecycle: These are the stages you want your product to pass through

We suggest a Dropdown for this one, too. A product should only be in one stage at a time.
Examples of stages could be :

ERP Data: Product has just been added from ERP and only has a few attributes assigned to it.
Basic Content: Things like Short Description, Brand, Title and Price have been added.
Rich Content: Product now has Images, Long Marketing Descriptions, Details, Unique Selling Points, etc.
Sales Ready: Product now has the sufficient data to be sold B2B.
Ecommerce Ready: Product is ready to be sold online.

Product Validation: This reflects the subjective completion of the product

We also suggest a Dropdown here, because it is unlikely that it will be in multiple stages of approval.
Examples of Validation could be "Pending, Approved, Needs Revision..."

Department Involved: Adding tags to filter what department is involved.

This works best as a Multiselect that way you can tag multiple departments at the same time.
Examples of Department Involved could be: R&D, Marketing, Sales, Ecommerce, Finance etc.
💡 Name these as you see fit; they should be simple, explanatory names for personal reference.

We recommend using Dropdown and Multi-select attributes types. These will be the best ones for our goals. Dropdown menus are good if you only want one option to be available at at time while Multiselect lets you add "tags" for multiple options at a time.
Both will allow you to set up a Smart List fairly quickly.
Let's look at an example, Product Owner.
You can set up a Dropdown attribute and assign a product to one of your team members.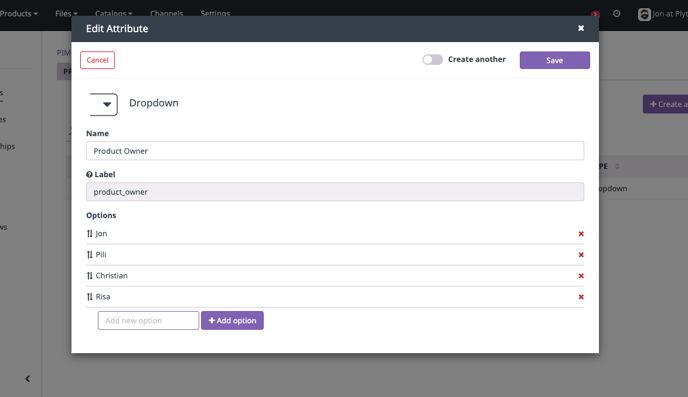 ---
This attribute group gathers all the "control" attributes we just created in Step 1. This makes it easier to use them later on.
For example, attributes are easy to find when they are grouped by team. Especially when setting up smart lists, if all attributes are grouped together, finding them takes no time.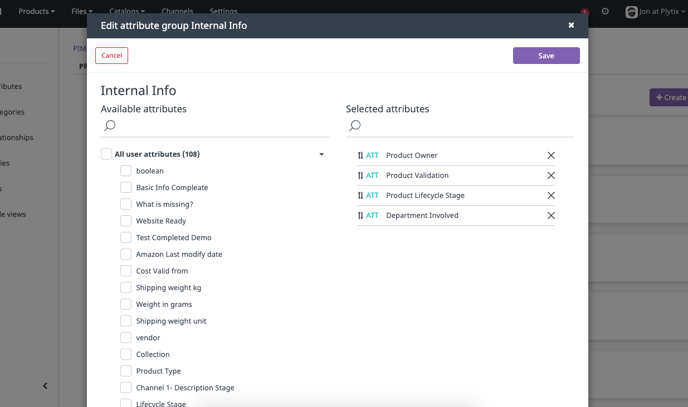 ---
3. Create workflows and processes with Smart Lists
This is the fun part. 😉
Once you have created the Attributes and the Groups, it's time to set up Smart Lists that will update automatically. This smart list will allow each user to create their own working lists and also to move products forward in your workflow.
Create Department Specific Lists: For example, you might want to create a list that shows you the Products that Marketing needs to take care of that way Marketing can assign ownership to their team members.
Create User Specific Lists: Example: The marketing manager can assign the products to a colleague so that they add the pictures to it.

Once you create Department and User Specific lists you can load them on the All Products Overview and start working with them. 👇
1) Selecting Load Filters on the top left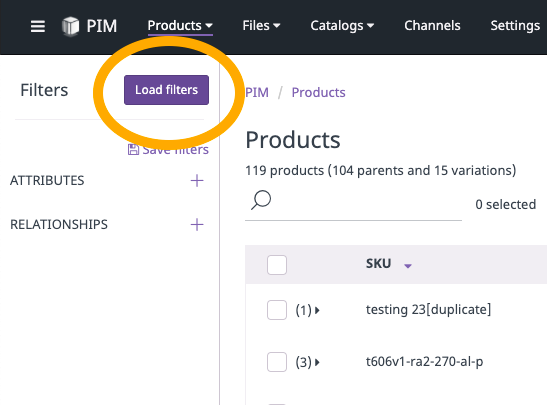 2) Then just choose the list you want to work with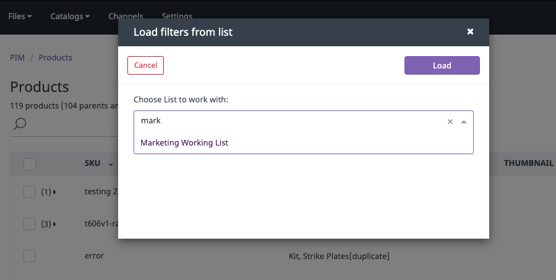 When you load a list, simply editing the products will automatically update which list the product appears on. Lists will decrease or increase depending on your updates.
There are 3 ways you can make those changes.
Editing Products Manually => Change Owner to "Risa"
Editing Products in Bulk => Bulk editing 55 products to "Validated"
Importing a CSV file with the edits => Importing SKU with "ERP Content" field
This way you can have 15 people working together in 3765 different Products in perfect harmony.
---
4. Supporting this setup with Team Roles
Now that you have the system set up with the Attributes and Smart List that let users collaborate and work on their lists, it's time to create the right Team Roles to support that.
Having the right Team Roles will allow each team member to take action on the relevant aspect of the team they are working on and will prevent human errors.
Examples:
Editor
Collaborator
Sales
Ecommerce
Editor: someone with access to all the PIM settings, but not to the Admin section.
Collaborator: Someone with only access to the Products Editing, but nothing else.
Sales: Giving them access to the Catalogs section and View Only to the Products.
Ecommerce: Editing Access to both Products and Channels.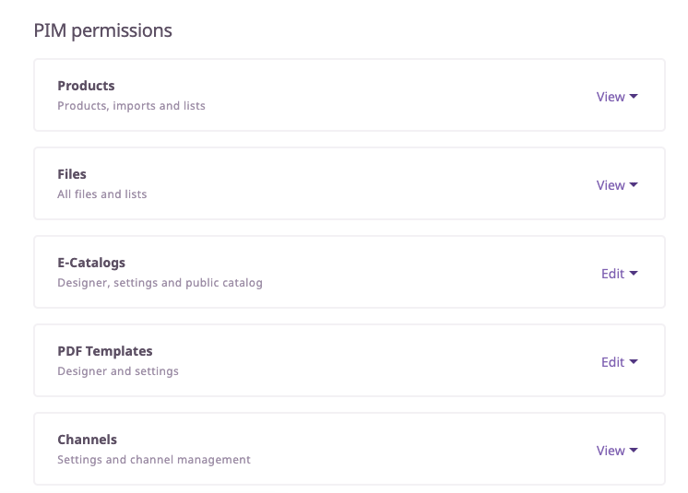 These are just some examples of how to set up Team Roles. Each company has a unique setup and structure, but this can give you a general idea.
---
Conclusion
Configuring Attributes, Groups, Smart Lists, and Team Roles to work together in a way your team can easily work and collaborate will have a huge impact on your productivity.
A better-coordinated team is a more efficient one.
And, of course, we will be more than happy to help you set this up together, don't hesitate to reach out to your Customer Success Manager.
---
What's next?
If you have any questions just click on the chat box in the bottom-right corner and we'll be happy to answer them...



and please let us know 👇